AT&T BlackBerry Z10 Release Date Set for March 22 at $199.99
Almost two months after BlackBerry launched its new lines of phones the BlackBerry Z10 will finally come to AT&T on March 22 for $199.99.
The phone will arrive in stores on March 22, but interested users can pre-order the phone tomorrow, March 12. Those who pre-order the phone should get it on or close to March 22.
The BlackBerry Z10 is the first smartphone to run the new BlackBerry 10 platform. The new platform has very little in common with the previous BlackBerry OS aside from its name a few features such as BlackBerry Messenger. The new platform is more similar to the BlackBerry PlayBook with its gesture-based OS.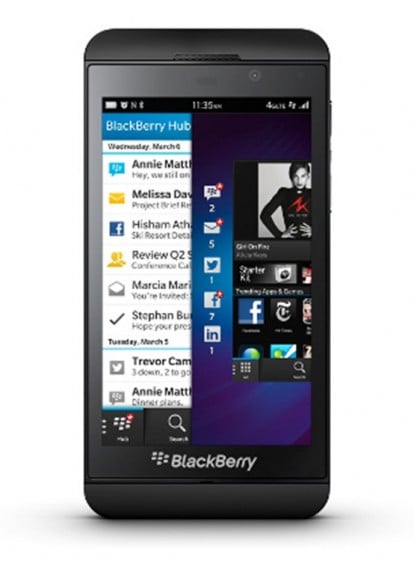 The BlackBerry Z10 uses a 4.3-inch 720p display with no physical keyboard. The touchscreen should make it easier for smartphone users now accustomed to the iPhone and Android to switch to the Z10 should they choose to. While the phone has no physical keyboard, reviews for the phone listed the virtual keyboard as one of the best features of the smartphone.
As a new platform BlackBerry 10 doesn't have as many apps as either Android or iPhone. It does have several big name apps such as Facebook, Twitter, Foursquare, Dropbox, Evernote and LinkedIn, though it doesn't have all of the most popular apps from other platforms.
Notable missing apps include Instagram and Netflix. Those apps may come to the platform in the future, but at the moment, there are no plans for either app to arrive on BlackBerry 10.
Two months after its launch to BlackBerry Z10 will face competition from a number of Android phones which weren't around back in January. A few weeks after the Z10 launch HTC introduced the HTC One which should come to store shelves around the same time.
BlackBerry will also compete with the new Samsung Galaxy S4 which Samsung will unveil on March 14 in New York City. Samsung's new phone threatens to overshadow every phone on the market aside from the iPhone 5, which may not bode well for BlackBerry.

As an Amazon Associate I earn from qualifying purchases.