AT&T Brings 9 COWs to Indianapolis for Super Bowl 46 (Video)
As the New York Giants and New England Patriots prepare to face off in Indianapolis for Super Bowl 46, AT&T shares details about how it has trained and prepared for the huge Super Bowl crowds, some of which are already descending on teh Indianapolis downtown area while they await kickoff at the Lucas Oil Stadium.
We gave you a behind the scenes tour of Verizon Wireless preparation inside the Lucas Oil Stadium and in the downtown area, including over a 400 antenna DAS system and 3 COWs (Cell on Wheels).
Now we have a look behind the scenes at how AT&T is ensuring great signals and a great experience for Super Bowl 46 attendees. As you may have guessed, AT&T has been working on a proper gameplan for almost  year, and includes an on site command center to ensure a smooth game day experience for the estimated 85,000 attendees, press, staff and players.
Watch William Medford, AT&T Area Manager of Network Engineering, explain what AT&T has done to bolster cell service and WiFi connectivity in Indianapolis for Super Bowl 46. Like the Verizon preparation, AT&T is ready for 4G LTE enabled phones like the Samsung Galaxy SII Skyrocket or tablets like the Pantech Element and HTC Jetstream.
https://youtu.be/gn58MF3mLaQ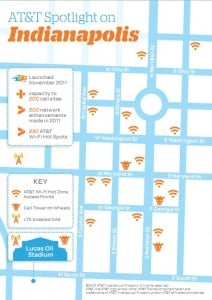 AT&T has the following gameplan in place for Super Bowl 46 connectivity
9 COWs (Cell on Wheels)
15 WiFi Hotspots (11 will stay in place)
Added 4G LTE to DAS for media accommodations
Added systems to 10 major hotels
Improved existing systems inside Lucas Oil Stadium
Added capacity to 200 cell sites in Indiana
Deploying a street team to help Super Bowl attendees on the street.
In all, AT&T has invested $150 million in wireless and wireline upgrades in Indianapolis during the first half of 2011, though they are tight lipped about how much of that went towards improvements in Indianapolis.
To the right, you can see where AT&T is deploying assets and where they have upgraded capacity in downtown Indianapolis.
If you are going to be at the Super Bowl, run some speed tests and tell us who has the better network. If you have an extra ticket, my contact info is below.