AT&T Deal Gives Buyers $100 Credit with AT&T Next
The AT&T deals keep coming as the company has announced another $100 credit promotion today just in time for those back to school and Labor Day shoppers. This essentially saves you $100 on your bill, which can go towards a brand new Galaxy S5, LG G3, or any other smartphone.
This excellent offer has been ran before, but as the summer months winding down AT&T is offering up this deal one more time to get a few more happy customers on board its growing 4G LTE network.
Read: Moto X+1 Release Date & Rumor Breakdown
If you're in the market for a new smartphone, or need to add a line to an existing plan to keep in contact with the kids now that they're back to school, this is the perfect deal. Both existing and new AT&T customers are eligible for this $100 deal, and we have all the details for potential buyers below.
Similar to other promotions or AT&T deals we've seen in the past, users will be getting a $100 bill credit for adding a line, or opening new lines with AT&T. This isn't a $100 gift card you can use as you'd like, but you'll save $100 off your bill, giving you more free money to buy a new smartphone, cases, covers, accessories, or anything else for that matter.
This is only available for those opting to use the AT&T Next program, which is your best route when getting a new smartphone these days anyways. AT&T Next, for those unaware, lets customers upgrade to a brand new smartphone outside of the usual 2-year contracts of old.
With AT&T Next you sign no contracts, put no money down (like the old $199 plans) and get a brand new smartphone absolutely free out the door. Rather than sign a 2-year contract you simply agree to make monthly payments for your new phone. So it isn't a contract, it's more like a loan or phone payment plan.
Read: LG G3 vs Moto X+1: What Buyers Can Expect
AT&T Next offers 20-month and 24-month payment plans that bring flagship smartphones like the iPhone 5S, Galaxy S5, LG G3, HTC One M8 and more just $24-$27 or so a month. AT&T Next 12 or 18 plans also allow the user to upgrade to a new phone before paying off the old. So you could get in on the action now then update to the new iPhone 6 or Galaxy Note 4 later this year.
The $100 AT&T deal is available for both new and current AT&T customers. As long as you open a new line on AT&T Next and get a new smartphone, you'll get $100 credit towards your bill, absolutely free. More details can be found at AT&T.com/100credit.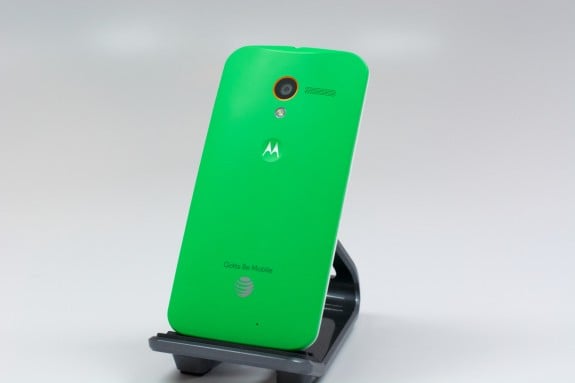 There are a few small catches though, but nothing major that would stop prospective buyers from taking up AT&T on this good deal. Below are the few things you'll need to be aware of, and do in order to get the $100 credit.
Purchase a new smartphone on AT&T Next.
Activate a new qualified wireless line of service on your new smartphone.
Remain active and in good standing.
Receive your $100 bill credit within 3 bill cycles
As long as you pay your bill on time for 3 months, you'll get the $100 AT&T deal and be able to enjoy the savings.
This brand new $100 AT&T deal ends on September 30th. Meaning users will likely be able to wait and take advantage of this deal while buying the new iPhone 6, Moto X+1, and possibly even the Samsung Galaxy Note 4. All three are expected to be announced in the first two weeks of September, and could arrive to carriers in the US before the end of the month.
While T-Mobile and Sprint have been busy lowering prices and taking shots at each other to steal the competition, AT&T still has one of the biggest coverage maps in the United States, and an excellent lineup of smartphones to choose from. More details can be found at AT&T.com.

As an Amazon Associate I earn from qualifying purchases.