AT&T Delivers Windows Phone 8.1 Update to Lumia 1020 Users
Owners of the Nokia Lumia 1020, are in for a huge update to their smartphones over the next couple of days. Earlier today, the Lumia 1020 became one of a growing number of smartphones in America being upgraded to Windows Phone 8.1. That's the latest version of Windows Phone designed to fill in the feature gaps that still separate the Windows Phone experience from what users get with Android or iPhones.
AT&T announced the availability of the Windows Phone 8.1 Update for Nokia Lumia 1020 smartphones on its AT&T Consumer Blog. Bringing what must have been an excruciating wait for anyone who had a Lumia 1020 Windows Phone in the United States to an end.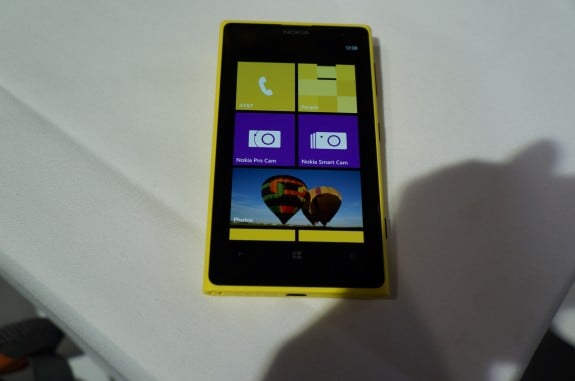 The Windows Phone 8.1 update improves on the user experience in just about every way software can. The most high-profile feature to come in the Windows Phone 8.1 update is Cortana, the personal digital assistant that Microsoft showed off earlier this year. Like the iPhone's Siri, users can ask their Lumia 1020 to set reminders, give them directions or even food recommendations. Like Google Now, Android's real-time search system, Cortana learns about user's habits and gives them the information they need. So for example, if a Lumia 1020 user is away from home taking pictures with the device's 41 megapixel rear-facing camera, Cortana will remind them of their next appointment and let them know that they need to leave at a certain time because of traffic conditions.
Cortana is the most high-profile feature, but there's so much more included too. Windows Phone 8.1 allows for deep integration with Microsoft's Windows 8.1 operating system. Internet Explorer favorites, passwords and browsing history are all synced between both operating systems. When users purchase some games and apps, they're automatically unlocked on both operating systems too. Windows Phone 8.1 and Windows 8.1 even sync user's color customizations.
Speaking of customization, Windows Phone 8.1 represents the first time Windows Phone users have been able to set a background on the Start Screen. Doing so makes every live tile transparent, giving the Start Screen a nice parallax effect that's pretty cool to look at.  A Swype-like gesture keyboard, better support for smartwatches and other Bluetooth devices, upgraded Windows Phone Store, new Xbox Video and Xbox Music apps round out the features Lumia 1020 users can expect as part of the Windows Phone 8.1 update. Microsoft has even added a file system that allows users to move different types of media around without connecting to a PC first and a new centralized notification area with shortcuts to commonly used settings is also available after the update. However, those features will be less exciting for average users who prefer live tiles and don't download things directly to their phone.
Read: Windows Phone 8.1 Review: It's an iPhone Killer, Almost
The Windows Phone 8.1 update's arrival on the Lumia 1020 follows more than a few other Windows Phone devices sold on the carrier. Since Microsoft released the update to hardware makers and carriers AT&T has made the software available to owners of the Lumia 1520, Lumia 925 and Lumia 520. That being said, the update remains elusive for some. Devices on AT&T still missing the update include the Lumia 820 and Lumia 920. That's interesting because, the Lumia 920 is perhaps one of only two high-end Windows Phone with a reasonably large install base in the United States – the other being the Lumia 520.
AT&T users should go into the Settings app on their device and look for the Phone Update option. Tapping the Check for Update button will force the phone to look for new software upgrades. Those who don't see the update now will be notified automatically when the update is available since Microsoft does these types of updates in stages. Before upgrading, users should plan to not use their Lumia 1020 for at least a half hour while it performs the update. It's also a good idea to only download the update over a Wi-Fi connection.

As an Amazon Associate I earn from qualifying purchases.