AT&T Galaxy Note ICS Update Review: First Impressions
The Samsung Galaxy Note ICS update finally arrived bringing Android 4.0.4 to the popular device and updating the Samsung S-Pen apps that use the Galaxy Note's stylus.
The Galaxy Note Android 4.0 update delivers noticeable subtle improvements and snappy performance after installing and restarting the device.
This update is exciting for users that use the Galaxy Note S-Pen on a daily basis.
Read: T-Mobile Galaxy Note Appears on T-Mobile Website
Samsung Galaxy Note users anxiously awaited this update since we first saw a preview video of the new apps Samsung would include.
https://youtu.be/FvH6vbhOs6Y
AT&T Galaxy Note ICS Features
Thanks to Samsung's TouchWiz overlay users won't notice a huge change. Samsung opts for minor visual changes like the new Settings menu layout and the way notifications slide out when pressing the clear button.
Tapping the Menu button on the bottom of the phone brings up a new menu that lists the options instead of showing a grid with a more button for the items that don't fit. That's a subtle but welcome change.
The Settings items shows a slightly different list of items. For example, there's now a setting for NFC under the wireless settings. The NFC function lets users Beam things like browser pages, contact info, pictures and more. Both devices must use the Android Beam feature and NFC for this to work, so I couldn't test it out since I don't own another NFC cable Android device.
The One-handed Operation mode will help Samsung Galaxy Note users. When engaged it changes the layout of apps like the Phone app or the Calculator app by moving the buttons closer to the left or right side of the phone. The large 5.3 inch display can make tapping the buttons on the opposite side of the screen daunting especially for small handed users.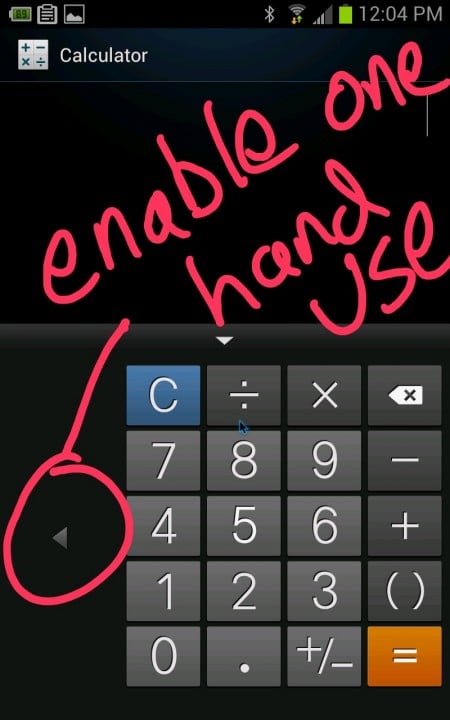 Many people who prefer smaller screen sizes complain that larger display make it impossible to use with only one hand. This feature makes that a moot point.
I tried to set up the Face Detect feature that lets the user hold the phone up to see their face to unlock the phone. It didn't work too well and I don't trust it, so I'm turning it off. I don't want some dude who looks like me, or someone using my profile picture getting access to my phone.
It's too soon to give an update on how the battery life improves or degrades with Ice Cream Sandwich. My Note gives me about 6-8 hours of usage before I need to charge it. After only two hours of heavy, almost constant usage, the phone registers 70 percent battery left. So it looks like battery life will still haunt me.
S Note
With the updated version of S Note, users can now import a PDF file and annotate it. That's a great feature if someone receives a document that needs a signature or editing. A colleague asked me to edit his Ph. D. dissertation, so I imported it into S Note and did the edits on the phone.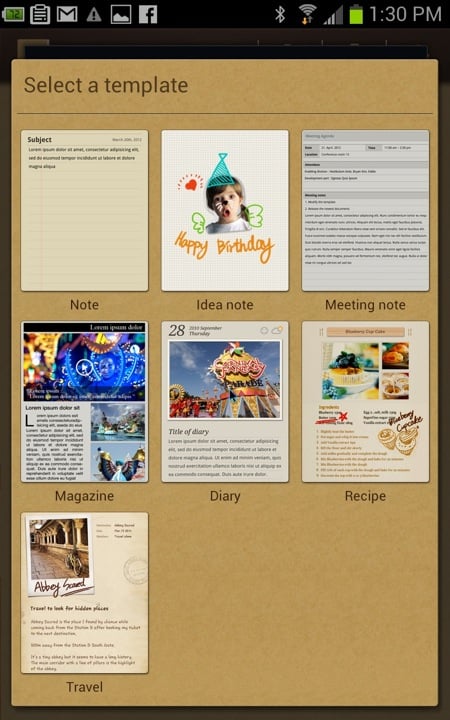 Users will get access to new templates that look really nice. They include sevens kinds of notes:
Simple Notes
Idea Notes
Travel Notes
Diary Notes
Meeting Notes
Recipes
Magazine
The Idea Note feature lets the user record their note taking or drawing. This might let a user show someone how to draw something for a tutorial in art. In Meeting Notes the user can attach contacts, agenda items, and links to calendar entries.
S Memo integrates Wolfram Alpha for recognizing equations that the user draws. Draw an algebra equation and the app recognizes it and solves it using Wolfram Alpha. If a user does a lot of organization charts or drawing, the new shape feature that smooths out rough shapes like boxes will help make notes look nicer.
S Memo
S Memo now gives access to a Widget for the home screen so users can quickly launch S Memo into on of five modes. Just press and hold the Home Screen and then choose to add the a Widget. Look for the S Memo Direct widget and drag it to the screen where it should stay.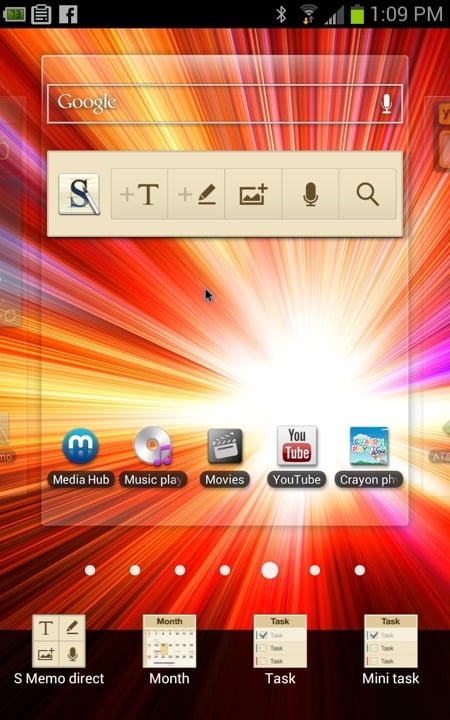 After that the user can tap one of the five S Memo types in the widget and it starts up the app in that mode. The buttons from left to right give access to the following modes:
Text Mode – type with the keyboard
S Pen Mode – draw with the S Pen or a finger
Picture Mode – import or take a picture
Recording Mode – record audio as you take notes
Search Mode – searches the memos
I wonder why Samsung didn't just combine the S Note and S Memo apps into a single app for this release. They seem a bit redundant.
My Story
My Story doesn't come with the ICS update, but users can download from the Google Play Store for free. Samsung made it for the Galaxy Note that Note owners can use to send home made cards and letters.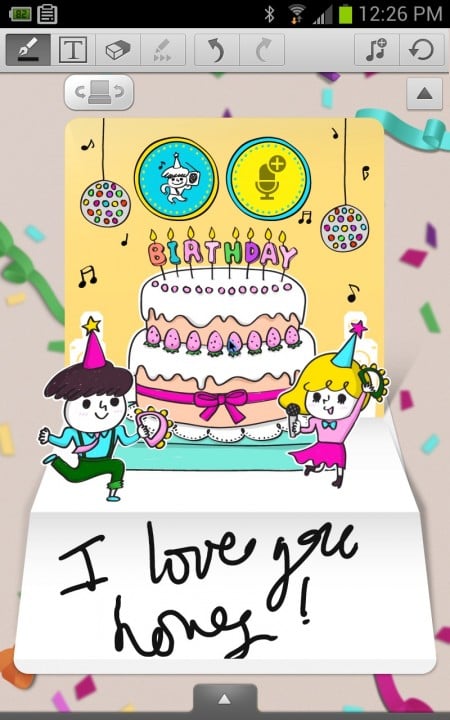 Download the app and it will install Samsung Push Services when it first starts up. Users must register with their name and phone number so that the app can send cards and letters to other users. It's pretty useless unless the user knows other My Story users. I wouldn't even bother downloading unless you know other Galaxy Note users. Even then, you can find better apps for this purpose, including the S Note app.
What You Don't Get
I wish that Note users could use some of the cool new features baked into the Samsung Galaxy S III like S-Voice. We do get basic Android Beam ability, but no S-Beam either. Note users also don't get Smart Stay On, the feature that keeps the screen bright while the user looks at the phone, thanks to the facial recognition.
What to Know Before Updating
Read all about the updates if you're still waiting by going over to Samsung update page. Here are a few important considerations to think about  before applying the update quoted from the update page:
Home screens: Items that have been added to the home screen, such as home screens that have been added/removed, applications, widgets, and wallpaper (if the current wallpaper is not supported by ICS) are reset to default. Lock screen images will be preserved.
Application Menu: The application menu sorting, folders and home keys will be reset. Downloaded applications will be preserved.
Contact Groups: All Contacts and Contact groups will remain. However. contacts within the contact groups will be removed.
Email: Email accounts that were added as a Social Hub or Samsung premium account will be removed.
Music: Music playlists and settings (Equalizer, Sound effect, Music menu) will be reset during the update.
Bluetooth: Paired bluetooth devices will be removed during the reset.
What do you like best about Android 4.0 for the Galaxy Note on AT&T.

As an Amazon Associate I earn from qualifying purchases.