AT&T Hiding iPhone 4 Ahead of iPhone 5 Launch?
The iPhone 4 is AT&T's hottest selling smartphone. So why is the wireless carrier hiding Apple's iPhone 4 on ATTWireless.com? It is likely that AT&T is pulling the iPhone 4 out of the spotlight ahead of an iPhone 5 announcement that may occur at WWDC on Monday.
AT&T was the exclusive iPhone 4 wireless carrier from June 24, 2010 through February 2011, when Verizon began selling a CDMA version of the iPhone 4. AT&T has promoted the iPhone 4 heavily on its website and in advertisements for the better part of the year. AT&T's and Apple's efforts have paid off and the iPhone 4 is AT&T's best selling phone.
But you wouldn't know that by visiting the recently refreshed ATT.com. Rather than showcasing the iPhone 4 and making it easy for visitors to buy the device, AT&T has all but hidden the iPhone 4 from view.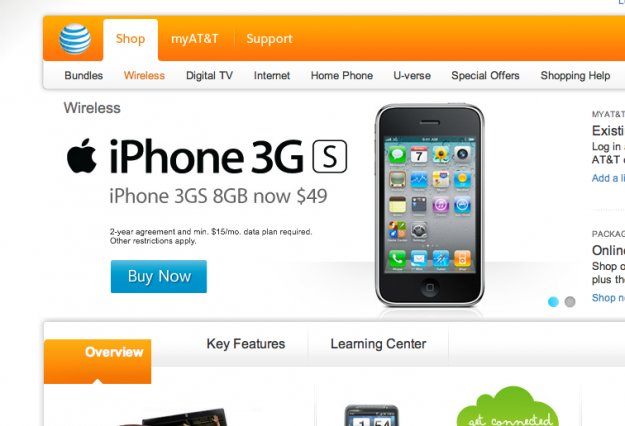 A huge iPhone 3GS promo greets visitors, followed by an Infuse 4G promo on the AT&T Wireless landing page. That's right, the iPhone that debuted two years ago and that can't even run some of the App Store's most popular apps properly is front and center. Yes, the iPhone 3GS is cheap, but it's not something we recommend buying at this stage of the smartphone game.
There's nothing wrong with promoting a cheap iPhone. After all, ATT.com promotes the iPhone 4 prominently on lots of web pages….right?  Wrong.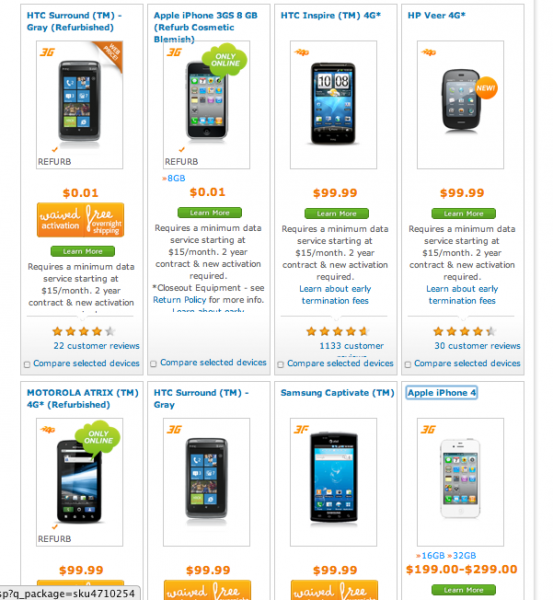 The smartphones section of AT&T.com has an impressive selection of smartphones to choose from. The grid has 29 smartphones that are sorted by price (mostly). The new iPhone 4 is in position number 26 in the second-to-last row, below the HP Veer.
So why isn't AT&T promoting the iPhone 4 more? Perhaps it's because the iPhone 5 will be unveiled on stage by Steve Jobs at Apple's WWDC, which kicks off Monday.
Those buying an iPhone 3GS for $49 know that they're not getting the latest and greatest technology, but they are saving a bunch of money by going with an older iPhone model. However, those now paying $199 or $299 for an iPhone 4 are opting for the latest models. Perhaps AT&T doesn't want to sell a bunch of new iPhone 4 units just ahead of WWDC and deal with countless exchanges from customers who would rightfully want to upgrade within AT&T's return window.
AT&T's Web site and the iPhone 3GS commercials the carrier is currently running are another reason why some of us believe that we'll see the iPhone 5 at WWDC.
What do you think? Is AT&T just trying to clear out its iPhone 3GS stock? Or is the iPhone 5 on its way it?

As an Amazon Associate I earn from qualifying purchases.