AT&T introduces dual-mode satellite phone TerreStar GENUS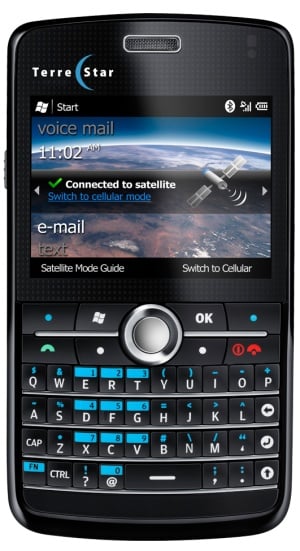 The age of domestic satellite phone service begins with the TerreStar GENUS, a dual-mode smartphone that switches between cell and satellite. Available now to AT&T Enterprise and Government customers for the low price of $799. Satellite minutes and data not included.
Tacking on satellite service might spare you from relying on AT&T's cell network, which can be craptastic depending on where you live, but it won't be cheap. On top of a $25 monthly fee, you'll be paying 65 cents per minute, 40 cents per message, and $5 per megabyte for satellite usage. All in addition to your standard plan, of course.
Satellite service is limited to the United States, including Hawaii, Alaska, Puerto Rico, the U.S. Virgin Islands and territorial waters, though not without the use of an external antenna. Though not counted in the service area, the TerreStar-1 satellite is said to cover Canada as well. So it's designed strictly for the intra-national traveler, not the worldly jetsetter.
The press release cites such usage scenarios as "government, energy, utility, transportation and maritime users, as well as backup satellite communications capabilities for public safety agencies, first responders and disaster recovery groups" yet the device is not rugged. I don't see it lasting very long in any situation other than in the hands of a business executive.
As you can see in the product shots, its only cutting edge feature is satellite connectivity. OS is Windows Mobile 6.5.3 Professional with all the usual features and limitations. Other connectivity includes Bluetooth v2.0 Class 2, Wi-Fi 802.11b/g, and GPS. Storage is via microSD up to 16GB.
Despite those shortcomings, the GENUS does represent a major step forward in satellite communication. Check the press release and TerreStar for more details. Oh, and it turns out I work just down the road from them.
Via Engadget