AT&T Introducing Revamped Data Plans This Sunday
AT&T will be switching up its three data plans this coming Sunday, January 22nd, which will bring a $5 increase but also an increase in data as well. Yes, you will be paying more if you sign up for one but you will be paying less per byte that you use.
So how does it break down?
Currently, AT&T offers three tiered data plan options. If you want 200MB per month, that will cost you $15. 2GB per month is currently $25. And 4GB with tethering is $45 per month.
Starting on Sunday, AT&T's plans will switch to $20 per month for 300MB, $30 for 2GB and $50 for 5GB and tethering.
Those who use tablets will have access to the 3GB for $30 and 5GB for $50 plans.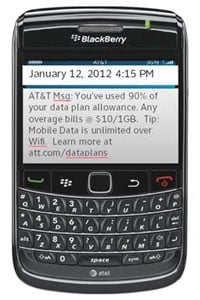 If you're a current customer, you won't be affected. That means those of you on unlimited plans can keep them. And if you're currently on one of AT&T's tiered data plans, you won't see any changes.
You will however have the option to change to the new data plans if you wish.
So again, one more time.
200MB for $15/mo -> 300MB for $20/mo
2GB for $25/mo ->3GB for $30/mo
4GB w/ tethering for $45/mo -> 5GB w/ tethering for $50/mo
There were certainly be mixed reactions to this, I for one wish they had a 1GB plan available, but it's nice that the carrier is not forcing this down its customers throats.
So, if you or someone you know have thinking about picking up an AT&T device, keep this in mind before you waltz into a store after Sunday and make a purchase.
And if you need more information, you'll be able to find it here once the weekend rolls around.