AT&T iPhone 4S Bundle Deal on Mophie Juice Pack Air Case
Went down to my local AT&T store to swap around the phones on my account since I used my son's upgrade eligibility to get the iPhone 4S, and saw a deal too good to pass up on the Mophie Juice Pack Air iPhone 4 and 4S case. This deal includes the case, a dock and a charger for $80.
The Mophie protects your iPhone while adding some extended battery time (1500 mAh or 6 hours of talk time) for those long days when you use your phone heavily or when you are roaming and therefore your battery drains quicker.
K. T. Bradford included this great case in our 10 Best iPhone 4S Accessories list. Also Warner recommended it back while back. The case retails for $79.99 but you can find it cheaper at Amazon, as her list indicated. I wanted one since I often find myself draining my phone battery while on vacations or business trips.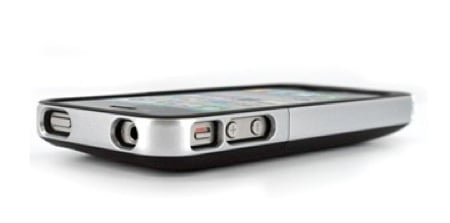 In just a few hours of use, I like the fact that it fits the phone well, feels good in my hand and has a micro-USB port on the bottom right corner. That means I can charge my iPhone 4S with my Android phone charging accessories while it is in this case. The switch on the bottom left corner turns the battery charger on or off so you can keep the battery fully charged until you absolutely need it. I picked up the white one, but they come in black and red too. Each of them comes with a silver trim around the edges.
In addition to the Mophie case they bundled two other charging accessories. Kensington makes a nice iPhone Charge and Sync Dock. Hook up the USB cable to your computer and insert either the iPhone 3GS or iPhone 4/4S insert into the dock. Quickly dock your phone to sync it over the cable instead of the slower new Wi-Fi sync that comes with iOS 5 or directly through the Apple cable that comes with your phone.
I like iOS 5 wireless sync, but sometimes you have to hook it up to a computer. Other times you just want a quick way to plug in to top off the battery. The dock holds the phone up in portrait mode so I put it on my desk at home next to my computer. I'll leave Twitter running or listen to music while I work. It retails for $29.99 but you can find it for about $15 on Amazon.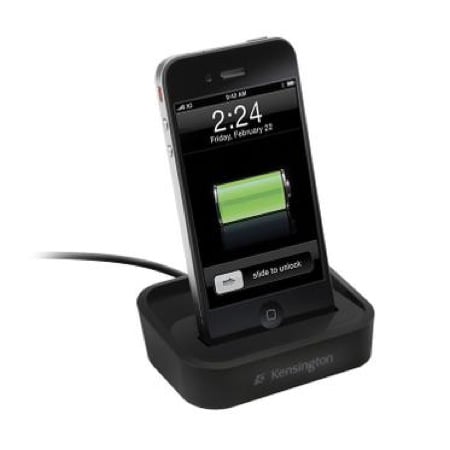 The third item in the bundle was a generic car charger. It works. Not much more to say about it.
The Mophie case is the star of this bundle, however, the Dock works well as does the car charger. Neither the dock nor the car charger can charge the phone while it's in the Mophie case. I just gave the car charger to my wife to use for her iPhone in her car.
The bundle costs $79.97 at AT&T. I think that's a good deal. If you ordered the three items separately they'd run over $120 retail and around $90 on Amazon.

As an Amazon Associate I earn from qualifying purchases.