AT&T Launches 4G LTE In More Markets, Announces Summer Plans
Today AT&T announced it now has 4G LTE coverage in eight new markets across the U.S. and that it plans on bringing the faster network to 77 new markets by summer.
The announcements of new markets that now have 4G LTE came in no less than seven press releases, each with quotes on how important the faster speeds are from a local politician, business owner or AT&T representative.
The new markets include Santa Rosa-Petaluma, Calif.; Kalamazoo, Mich.; Walterboro, S.C.; Wilson, N.C.; Jackson, Tenn.; Hampton Roads, Va.; Napa, Calif. and Orangeburg, S.C.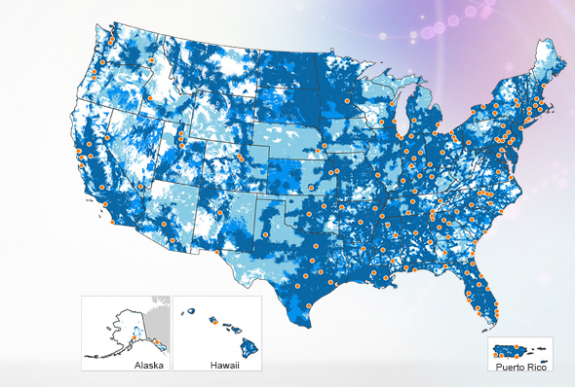 Along with the new 4G LTE markets, AT&T also announced the next markets it intends to bring 4G LTE to. The new markets include markets across the U.S., with many in smaller cities or areas that those outside the market have never heard of. There are a few notable cities in the long list, however.
Notable cities in the upcoming 4G LTE network expansion include Dayton, Ohio; Paris, Texas; Huntington, W.Va.; Seneca Falls, N.Y.; Cortland, N.Y.; Atlantic City, N.J.; Topeka, Kan. and Flagstaff, Ariz.
The full list of cities AT&T will soon bring 4G LTE to is:
Florence / Muscle Shoals, AL
Huntsville, AL
Monroeville / Evergreen, AL
Troy / Greenville, AL
Tuscaloosa, AL
Flagstaff, AZ
Chico, CA
Merced, CA
Visalia, CA
Dover, DE
Lake City, FL
Ocala, FL
Hancock, GA
Jefferson / Commerce (Jackson County), GA
Valdosta, GA
Davenport, IA
Champaign, IL
Rockford, IL
Columbus, IN
Fort Wayne, IN
Manhattan, KS
Topeka, KS
Elizabethtown, KY
New Iberia, LA
Shreveport, LA
Cape Cod, MA
Leonardtown, MD
Flint, MI
Lansing, MI
Muskegon, MI
Saginaw, MI
Duluth, MN
Cape Girardeau, MO
Columbia, MO
Biloxi/Gulfport, MS
Corinth / New Albany, MS
Greenwood / Cleveland, MS
Meridian / Philadelphia, MS
Asheville, NC
Goldsboro, NC
Kinston, NC
Portsmouth, NH
Atlantic City, NJ
Millville, NJ
Southern NJ Shore Points, NJ
Farmington, NM
Gallup, NM
Batavia, NY
Cortland, NY
Seneca Falls, NY
Dayton, OH
Wooster, OH
Youngstown, OH
Salem, OR
Williamsport, PA
Anderson, SC
Chattanooga, TN
Cookeville, TN
Athens, TX
Brownsville-Harlingen, TX
Corsicana, TX
Huntsville, TX
Laredo, TX
Lufkin-Nacogdoches, TX
McAllen, TX
Paris, TX
Sherman-Denison, TX
Texarkana, TX
Victoria, TX
St. Croix, US Virgin Islands
St. Thomas, US Virgin Islands
Petersburg, VA
Roanoke, VA
Spokane, WA
Huntington, WV
Morgantown, WV
Laramie, WY
AT&T is still working to rollout its 4G LTE network to match its "4G" HSPA+ network, and big rollouts like this one help it meet that goal. The carrier is still behind Verizon, which is on track to complete it's 4G LTE before any other U.S. carrier.
Both AT&T and Verizon are far ahead of Sprint and T-Mobile, both of which have relatively small 4G LTE markets now. T-Mobile just started its 4G LTE network last month, while Sprint started last year. T-Mobile and Sprint carriers are looking to mergers or buyouts with MetroPCS and Softbank, respectively to help boost their rollout speeds.