AT&T Mobile Share Plan Offers More for Less
AT&T's new Mobile Share plans can save some subscribers big money and provide additional services at no additional cost, especially for families with multiple smartphones. In my case, the new Mobile Share plan saves my family about $50 per month compared to our old plan, plus we get some bonuses thrown in.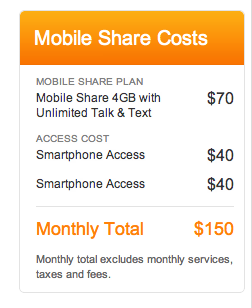 Our old AT&T plan had a lot of components. At the base was FamilyTalk Nation 1400 with rollover, which cost $80 per month. Family messaging unlimited mobile to mobile calling cost an extra $30 per month. I need my iPhone to act as an emergency mobile hotspot so I paid $50 per month for DataPro 5 GB. I had to pay a $20 premium over the 3GB data plan in order to get the mobile hotspot, even though I didn't need the extra data. I paid $30 per month for my wife's iPhone to have "unlimited data," which was actually limited to somewhere around 2.5 GB. There was also a $9.99 charge for my wife's phone to be added to the family talk plan. The total damage was $199.99 per month before tax, insurance and miscellaneous fees.
I signed up for the 4 GB mobile share plan which costs $70 for the pool of data, unlimited calling and unlimited messaging. There's a separate charge for each device I want to connect to this data plan. In our case that is a pair of iPhones, bringing the total to $150 per month. That's a savings of $49.99 per month compared to our old plan, which adds up to almost $600 per year. In other words, we could buy a pair of top-end iPhones every year with the money we save from switching to AT&T's new plan.
My wife is the biggest beneficiary of the share everything plan since her iPhone will now have the mobile hotspot feature enabled. Previously, her line didn't have the feature enabled because she rarely needed to use it. However, she does travel for work several times per year and has had to borrow one of my devices to get online while attending conferences. Another benefit of the Mobile Share plan is that FaceTime will work over 3G and 4G when iOS 6 is released in the coming weeks. AT&T has already stated that subscribers on older plans will not be able to place or receive FaceTime calls over its wireless network.
While we are technically getting fewer gigabytes per month on the new plan, it doesn't really matter considering that we never exceeded 4GB per month in the first place. We now have a wireless plan that's better suited for our real-world needs.
Of cours mobile FaceTime calls, mobile hotspot tethering and the looming upgrade of the iPhone five to 4G LTE could mean to blow past the 4GB cap. In that case will have to pay $15 per gigabyte per month extra or before us to upgrade to a plan with more data. The 6GB Mobile Share Plan is only $10 more per month should we need it. In fact, we could upgrade always to 10 GB per month and still pay $20 per month less than we were on our old plan.
The one thing I worry about is the temptation to upgrade to a much larger bucket of data such as the 20 GB for $200 plan. The blazing fast 4G LTE service we expect to see on the iPhone 5 could push a lot of users towards a bigger data plan.
While our household saving a significant amount of cash with the mobile share plan from AT&T, your mileage may vary depending on your needs and how many devices you have.
For once, I'm very pleased with a wireless carrier's new billing scheme. Yes, $75 per month for each iPhone is expensive, but we both get more than enough value out of our devices to justify the $2.50 daily cost.

As an Amazon Associate I earn from qualifying purchases.