AT&T Next Brings Annual Device Upgrades
The Rethink Possible network had just announced AT&T Next, a handset and tablet upgrade program that is aimed squarely at competing against T-Mobile's recently JUMP plan. Next allows users to get a new handset every year with no down payment, no activation fees, no upgrade fees, and no financing fees. The program officially launches nationwide on July 26.
What is Next
"With AT&T Next, customers purchase a smartphone or tablet with no down payment and agree to pay monthly installments for the device," the company wrote in a release. "After 12 payments, they can trade it in and upgrade to a brand new device — again with no down payment — or they can keep using their device and have no more payments after 20 months. AT&T Next is available for new AT&T customers or existing customers who are upgrade eligible."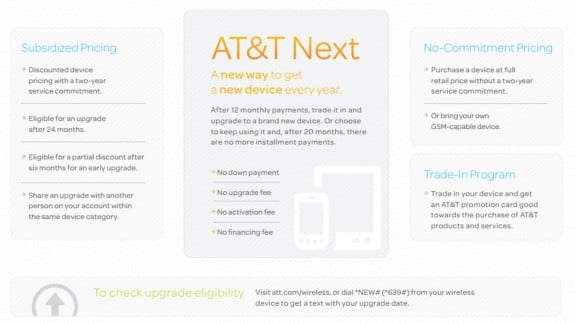 Device Pricing
To calculate how much a device will cost with Next, users can take the full retail cost of the device and divide that by 20 interest-free monthly payments. Users who do opt in for the annual upgrade program would of course not get to keep their phones. Instead, they'll trade-in their current devices for new ones as part of the program.
For example, if a user opted to purchase a 16 GB iPhone 5, the device's full retail price is $650 plus any applicable taxes. Monthly payments would be $32.50 (650 divided by 20 payments). After a year, or 12 months, a user would have paid $390. At that point, if the user wants to upgrade, they'll trade in that iPhone 5 for a new device. Remaining payments for the iPhone 5 would be wiped clear, and users of Next would pay for the payments on the new device.
To partake in Next, it looks like users must have good credit.
However, if a user were to keep the iPhone 5 for the full 20-month cycle, they would have paid off the device and can keep the iPhone 5 when they decide to upgrade at that point.
Differences With T-Mobile Jump
Already, there are some notable differences between the AT&T Next and the T-Mobile Jump campaign. First, Jump requires an up-front down payment while Next has no down payment. Second, while Jump comes with an extra cost–though with that added cost you do get handset insurance protection in case of loss, damage, or theft–Next offers users more flexibility and if you don't take advantage of the upgrade program through AT&T, you can still stick to a new device every two years.
AT&T does offer handset protection insurance as an optional buy-in as well.
Power Features
Meredith Red of AT&T's Los Angeles PR team highlights that Next offers additional incentives for the tech-obsessed, such as early upgrade promotions and the ability to share upgrades between users on the same account:
Early upgrades – eligible for partial discount after six months or more of a two-year agreement
Share an upgrade – with another person on your account within the same device category
Trade-in program
No-commitment pricing – purchase at full retail price without a two-year service commitment
Bring your own device