AT&T Novatel Mobile Hotspot MiFi Liberate Review
AT&T's Mobile Hotspot MiFi Liberate from Novatel Wireless is a fantastic companion for road warriors as it combines a great looking, easy-to-use touchscreen with reliable 4G data speeds, high-quality battery life and the ability to host up to 10 Wi-Fi enabled devices.
Novatel Wireless' Mobile Hotspot MiFi Liberate for AT&T doesn't look like a MiFi Hotspot, it looks like something else entirely. That's because it employs a nifty little touchscreen that separates it from the previous MiFi devices that we've seen from the company. And with a very reasonable $49.99 price tag, the MiFi Liberate is certainly worth a look from those who need to be productive while on-the-go.
From the touchscreen that provides useful features that were once more than a finger swipe away, to quality 4G LTE data speeds, to extremely good battery life, the MiFi Liberate is a solid edition to AT&T's lineup. There are some features, such as GPS, that certainly feel a bit like overkill, but overall, for those looking for a MiFI device on AT&T, this is the first place to look.
[ratingbox]
Hardware
Novatel's latest Hotspot is a much different looking beast than any of its previous MiFi devices for AT&T. And one of the big reasons for that is because of the MiFi Liberate's touchscreen. The device is built around its 2.8-inch display, a display that houses many useful features that at first seem a bit overwhelming but eventually become extremely useful when using it with your devices.
The screen boasts a 400 x 240 pixel resolution, which, for a MiFi device and for what it does, is outstanding. It's nice to look at but don't expect the sharpness or viewing angles of a high-end smartphone. The screen was a bit sluggish at times as we attempted to navigate it but it didn't happen enough to make it an annoyance.
The device's unique design checks in at exactly 4.05 by 2.88 by 0.34 inches which isn't going to win it any awards but makes it thin and small enough to fit into most travel bags comfortably. Those that want to fit it in their pocket though might find it a little hard to manage.
It's constructed out of a plastic material that is colored black and which gives it a sleek look. On the top of the main rectangle is a cylindrical looking object that houses the MiFi Liberate's 2,900mAh battery. It also can curve up which allows for the device to be set up at a more manageable angle.
On the top left side is the device's power button which of course powers the MiFi Liberate on and off. Booting the device on or off is a fairly quick and painless process. On the right hand side is a microUSB slot that not only serves as its charging port, but can also be used to connect to a device for wired USB tethering should you need it.
Housed on the bottom of the device is a microSD card slot where users can pop in an SD Card and on the back is a SIM card slot that is available when the battery is removed.
Overall, it's small enough to easily fit on a desk or hold in one hand and light enough that it won't weigh you down when carrying it in a bag.
Software
AT&T's MiFi Liberate is unique in that it features a touchscreen but there is also some uniqueness beyond that fact that it's there. There is, after all, a reason why Novatel Wireless put a touchscreen display on board.
The screen acts as any smartphone display would displaying pertinent information in regards to the MiFi's battery life and connectivity, signal strength, current time, and more. And while it could have stopped at that, the software on board the MiFi Liberate goes much deeper than that.
After a quick set up, users will be taken to a home screen that offers an assortment of options. From the home screen, you'll be able to access Connection Details, Data Usage, Connected Devices, General Settings, Messages, File Sharing, a Media Center, GPS, and Wi-Fi Protected Setup. Again, it'll feel overwhelming at first, but it's so intuitive that you'll pick it up in no time at all.
Once users tap one of these options, it will open up a new window that unleashes a variety of manageable features. For instance, in Connection Details, users will be able to easily get information about their Wi-Fi connection including password, network name and more. In Data Usage, there is an account summary that shows how much of data has been used. And in the General Settings, you can adjust things like screen brightness, screen timeout length, Wi-Fi range and a whole lot more.
What's more is that Novatel Wireless makes all of the options accessible to users of any background by providing helpful hints alongside them. Simply tap a blue question mark and a hint will pop up displaying a description about the usefulness of the feature.
There are though some software features that seem a bit, unnecessary, for a mobile hotspot, features like GPS and Messaging. The MiFi Liberate comes with an SD Card slot and DLNA support, users can store files like music, video and more on board the Liberate and play them through a DLNA supported televisions and audio players. For most people, this won't be the ideal way of performing these tasks, but they are there nonetheless.
Connectivity and Battery Life
When it comes to a mobile hotspot, connectivity and battery life are maybe the two most important aspects that potential buyers will be looking at. Fortunately for the MiFi Liberate, it performs admirably in both areas.
The MiFi Liberate takes advantage of both of AT&T's 4G networks. Where 4G LTE is available, the MiFi Liberate will run on that. If 4G LTE isn't available, and because AT&T's network is still growing it sometimes isn't, the MiFi will take advantage of AT&T's slower HSPA+ 21 network that it advertises as its "4G" network.
In testing, we were able to pull down typical AT&T 4G LTE data speeds. Speeds ranged between 5-18 Mbps on the download side and between 1.5-5 Mbps on the upload side. Of course, when on HSPA+ 4G, speeds were much slower, but they were fast enough to easily enjoy an episode of Arrested Development on Netflix without any sort of interruption.
We connected a bunch of different devices to the MiFi Liberate including iPhones, Android devices, laptops and more and none of them experienced any difficulty in connecting to its network.
Battery life on the MiFi Liberate is fantastic and can easily last more than nine hours while using a device on AT&T's 4G LTE network. That's more than enough juice for the average user and will almost certainly appeal to the hardcore data hog as well.
Conclusion
All in all, for what comes with the MiFi Liberate at its $49.99 price tag, this is the best mobile hotspot on AT&T and the one that those looking for a dedicated hotspot should have at the top of their list.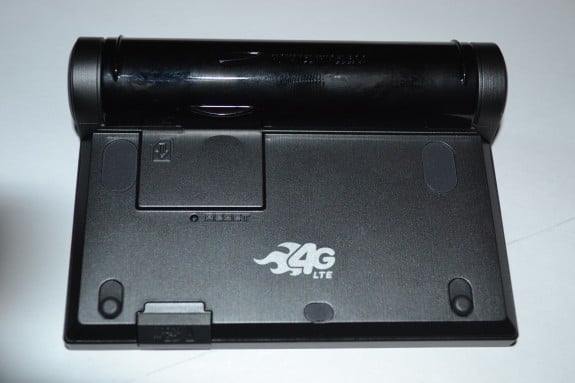 With superb connectivity and battery life to go along with a good-looking and intuitive touchscreen and the ability to host up to 10 devices, we recommend the MiFi Liberate to anyone with a dumb phone that is looking for portable access to 4G LTE speeds or to smartphone owners who either need a reliable back up or are tired of spending precious battery life on tethering from the phone itself.
There are certainly some unnecessary features like GPS and Messaging, but overall, the MiFi Liberate is the complete MiFi package.

As an Amazon Associate I earn from qualifying purchases.