AT&T Now Offers the HTC First for $0.99
Less than a month after the debut of the "Facebook phone" AT&T now lists the HTC First for $0.99, instead of the original $99.99.
When the HTC First arrived on AT&T the carrier sold the first phone with Facebook Home pre-installed for $99.99, an average price for a mid-range Android smartphone. Now, slightly less than a month after its debut the HTC First is available for just $0.99 on AT&T, essentially making it free with a two-year contract.
It's not clear if the price drop is a permanent price drop of part of a sale. There is no indication of a sale on the phone, however, which may indicate a permanent price drop for the "Facebook phone."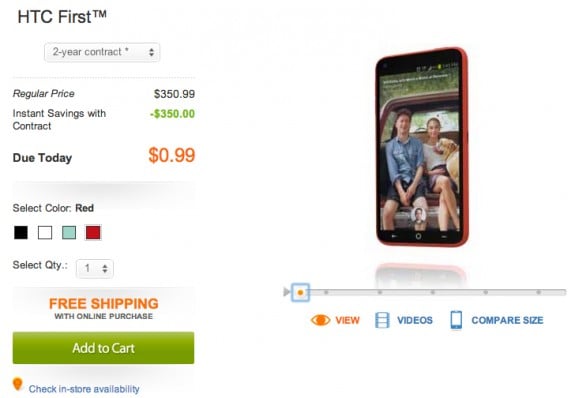 The HTC First is a mid-range Android smartphone with a 4.3-inch 720p display and a dual-core Qualcomm Snapdragon 400 processor. The phone has 16GB of storage space and uses a 5MP camera. In all, the specs make it a pretty average, inexpensive mid-range phone.
The big feature of the HTC First is Facebook Home, which puts the user's Facebook friends on the lock screen and homescreen. The Cover Feed cycles through photos and status updates from friends so users never have to launch the Facebook app to see what their friends are up to.
Beneath Facebook Home is perhaps an even more enticing feature of the HTC First. The phone runs stock Android 4.1 Jelly Bean, a rarity outside the Nexus line. There is a subset of Android users that yearn for smaller phones that run stock Android, and the HTC First is the only phone that fits that description.
It seems that small enthusiast community wasn't enough for AT&T to justify the $99.99 price point, however. Apparently there aren't a lot of users who want a phone with a bad 5MP camera and built-in Facebook integration, either.
When Facebook announced Facebook Home it announced a number of partnerships with phone makers and carriers. The performance of the HTC First may dissuade some of those partners from putting out their devices.