AT&T Readies Systems for Shared Data Plans
AT&T has expressed its intent on moving to shared data plans in the future, but unlike rival Verizon Wireless which gave a broad timeline on when that may happen, AT&T Mobility has not given specifics about its plans. Shared data plans, also referred to as family data plans or shared family data, would allow users to bundle a singular data plan and tie them to multiple devices without having to purchase data plans for individual devices.
According to a leaked screenshot of AT&T Mobility's Telegence system obtained by Engadget, the carrier is advising employees of shared data plans, but the screenshot did not give any specifications on when those plans may debut or launch.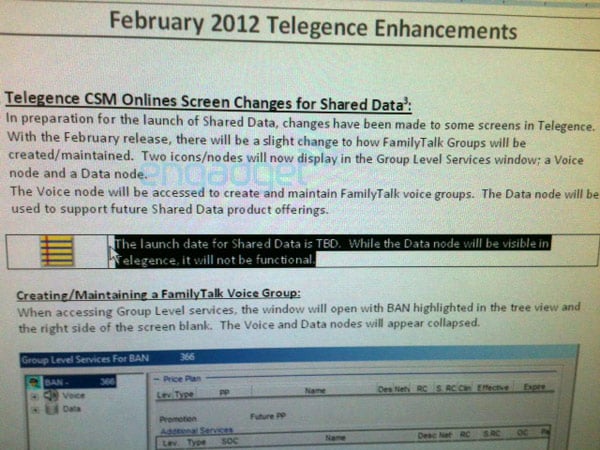 Shared data plans, which will work much like shared family plans for voice minutes, will allow customers to purchase a bucket of data. Customers can tie multiple devices to that data bucket, and there may be some nominal cost per device, which would still be cheaper than having to purchase separate data plans for each device owned.
With customers adding multiple screens to their Internet-connected digital life, shared data plans may help make it affordable to own a smartphone, netbook, and tablet.
Rival carrier Verizon Wireless had promised that shared data plans would be coming to the market in 2012. Both carriers had previously ended offering unlimited data plans to customers in favor of tiered data plans. Shared data plans would more than likely be offered in tiered buckets, like individual data plans offered today, and customers on unlimited data plans wishing to partake in family shared data may have to switch their account to a tiered bucket to take advantage of the new plans.

As an Amazon Associate I earn from qualifying purchases.