AT&T Readying Rollout for Shared Data Plans
Following the lead of Verizon Wireless in offering shared data plans, it looks like AT&T may be prepping its own plans to allow customers to have multiple devices share in the same monthly data allotments. Also known as family data plans and family share plans, these plans would essentially do for data what family voice plans did for minutes, allowing multiple devices to share from the same pool or bucket of data each month without requiring each individual device to have its own separate data plan.
AT&T has made it no secret in the past that this is where the company is headed, though AT&T has not given many specifics as to when it would roll out its new shared data plan offerings.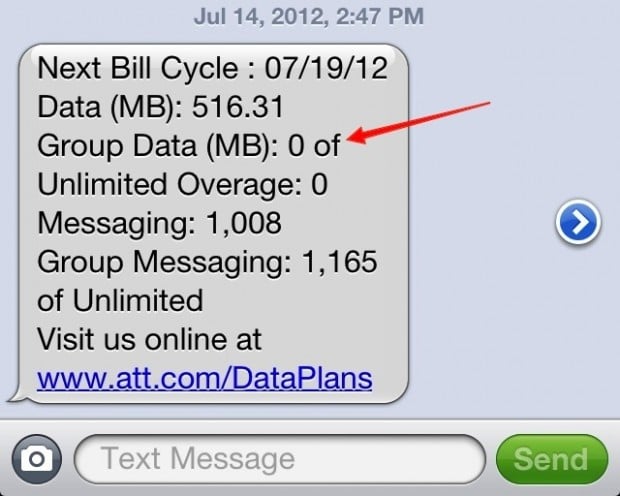 Now, according a text message sent to customers, for which a screenshot has been posted on TechnoBuffalo, to inform them of how many minutes, how much data, and how many text messages are being sent out month to date, there's an interesting revelation where AT&T shows 'Group Data.'
At this time, it's still early and it's unclear how soon group data plans would be available. Carriers and industry analysts believe that group data plans would make it more affordable for consumers to have more than one data-capable device on their plans. Right now, smartphone owners may feel that it is too expensive to have a 3G/4G tablet in addition to their phones because of the high monthly data rates for both devices.
Rival Verizon is allowing multiple devices to share the same data plan each month, making it a bit more affordable to have embedded 3G/4G devices. However, that carrier charges a small surcharge per device to participate in the plan.