AT&T Revamps Plans Ahead of iPhone 6s Launch: Cheaper Data, Free International Calling
AT&T is introducing new Mobile Share Value plans that will offer more data at cheaper rates less than a month before Apple's set to introduce the new iPhone 6s,. The new plans with at least 15GB of data will include unlimited free calls and messages to Mexico and Canada.
AT&T sells its Mobile Share Value plans with buckets of data, ranging from 300MB to 50GB per month. In addition to the charges for data, there is a monthly device access charge ranging from $15 to $40 depending on how much data subscribers purchase and whether they purchase their phones on a payment plan or not.
The new AT&T Mobile Share Value plans will be available starting August 15 and offer up to 50% more data compared to the plans they replace. As you can see int he pricing table above, $100 per month would pay for a 10GB Mobile Share Value plan. The new $100 Mobile Share Value plan provides 15GB of data per month.   According to AT&T, the old 10GB plan is its most popular.
The 300MB plan remains $20, but every other option changes. The 1GB, 3GB and 6GB plans are gone, replaced with 2GB, 5GB and 5GB plans.  The 2GB plan is $5 more than the old 1GB plan and the 5GB plan is $10 more than the old 3GB plan. All Mobile Share Value plans come with unlimited messaging and domestic calling.
Monthly Plan Charge
Data
Monthly Device Access Charge3
Unlimited Talk/Text to Mexico and Canada
$20
300MB
+$25/Line with

AT&T Next

$30
2GB
$50
5GB
$100
15GB
+$15/Line with

AT&T Next

INCLUDED!
$140
20GB
The AT&T Next program allows subscribers to pay for their phones on an installment basis and upgrade as often as every year. Those who bring their own unlocked phones or pay full price up front pa the same monthly device access charges as the AT&T Next access charges listed in the above table.
AT&T will offer larger buckets of data for those with more lines or who just use more data. Though AT&T has listed the pricing details yet, it will offer 25GB, 30GB, 40GB and 50GB plans at new rates starting tomorrow.
For a limited time, those switching to AT&T can receive $300 when transferring their numbers and turning in their old phones, so long as the old phone works and is worth at least $10. We expect to see other aggressive promotions as wireless carriers compete for iPhone 6s buyers. Apple will launch the next-generation iPhone on September 9th.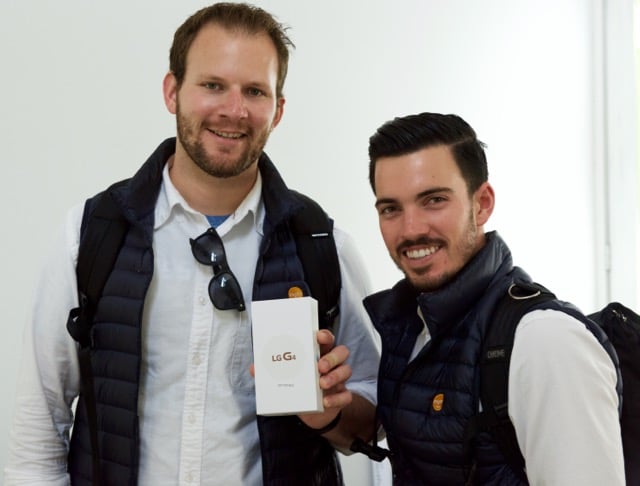 As we've noted previously, AT&T subscribers in New York and San Francisco can have new iPhones and Android devices delivered by Enjoy, a concierge gadget service, in just a couple of hours. Read our review of the service and why we consider AT&T and Enjoy the best way to buy a new smartphone.

This article may contain affiliate links. Click here for more details.