AT&T Samsung Focus 2 Hands-on Video
Yesterday, AT&T and Samsung announced a new 4G LTE Windows Phone, the Samsung Focus 2. Today, we were able to hands-on with the upcoming device at CTIA 2012, a device that is set to hit shelves on May 20th for an extremely attractive price.
The Samsung Focus 2 will be AT&T's next Windows Phone and its next 4G LTE powered Windows Phone. That means that it will be able to pull down data speeds that are 10 times faster than those found on regular old 3G. And like another of AT&T's 4G LTE Windows Phones, the Nokia Lumia 900, AT&T is going to be offering the Focus 2 at an fantastic price point.
When it arrives on May 20th, it will cost $49.99 on-contract and after spending some time with it at this year's CTIA, we can say that it's definitely worth a look at that price.
The Focus 2 features a sleek, glossy white design and a nice looking 4-inch display. That display checks in a little smaller than the Lumia 900's 4.3-inch display but for many, a 4-inch display will be the perfect size. That's because the screen real estate will be easily accessible with the thumbs, somethign that doesn't happen with screens that are larger in size.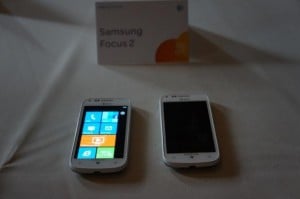 The design of the Focus 2 is also pretty enticing as it measures in at a mere 10.98mm and 4.3 ounces.
It also features a 5MP rear-facing camera that can shoot 720p video and a front-facing VGA camera for Skype and other video chat options. Those aren't top of the line but they should do the job for those that are casual mobile photographers.
One of the major drawback of the Focus 2 is that it only has 8GB of storage space with no microSD card slot. That means that users are stuck with the 8GB. As we pointed out, music services like Spotify should help to save space on the phone.
It also may never get the upgrade to Windows Phone 8 Apollo.
Overall though, this is a pretty solid mid-range smartphone that will appeal to those that want 4G LTE speeds and don't need all of the bells and whistles that a top of the line smartphone has to offer.
Stay tuned for more CTIA 2012 coverage from Gotta Be Mobile.

As an Amazon Associate I earn from qualifying purchases.