AT&T Samsung Galaxy S4 Zoom Release set for November 8th
This afternoon AT&T and Samsung officially announced the Samsung Galaxy S4 Zoom smartphone with a dedicated camera lens attached will hit the carrier on November 8th, starting at just $200 on contract.
Back in June Samsung announced the new Galaxy S4 Zoom, adding another option to the now growing Galaxy Camera lineup, and it has been rumored for AT&T several times, and spotted in FCC filings. Today however AT&T confirmed all the details and it looks like those fancy Nokia Lumia cameraphones will soon have some Samsung competition.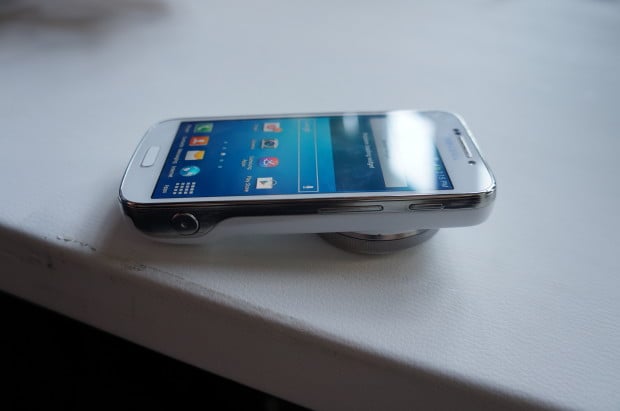 Bringing the point-and-shoot camera model to smartphones, the Galaxy S4 Zoom features a similar 16 megapixel CMOS sensor as the Galaxy Camera, but has been added to Samsung's Galaxy S4 smartphone with paired down specs to help balance the price point. Coming in at the same $199 price as the original Galaxy S4, this could be a perfect device for many consumers that enjoy more than the casual Instagram photography.
For more details be sure to check out our Galaxy S4 Zoom hands-on from the official announcement, as well as the usual AT&T Mobile Minute video below where the carrier will be highlighting a few of the important specs and features of its latest device.
For those curious, while it may carry the Galaxy S4 name, it's no where near the same device. Instead you'll be enjoying a 4.3-inch qHD (540 x 960 resolution display instead of the 5-inch 1080p option on the full-size Galaxy S4. Then Samsung's added an off-brand 1.5 GHz dual-core processor, 1.5 GB of RAM, and 8GB of storage to hold all those photos. However, you'll enjoy a micro-SD slot for expanding storage. Since you'll need it after shooting 1080p and full 16 megapixel photos with the smartphones 10x optical zoom feature.
In the end Samsung and AT&T are offering a device slightly above an entry level handset, but have paired it with a stunning photography and camera experience all for the price of most top end devices. For those who don't need the best, this could be a great option. The Samsung Galaxy S4 Zoom will be in AT&T stores and online starting November 8th for $199.

As an Amazon Associate I earn from qualifying purchases.