AT&T Short on iPhone 5 Inventory Says One Store Manager
For better or worse the release of a new iPhone has become something of a ritual. Pre-orders, lines, tracking shipping progress, lost sleep, you name it;  it all happens each and every year when Apple is ready to roll out its new flagship device. A part of my ritual is to run down to the local AT&T store the day before and see what info I can glean from the manager. I've known him for a couple of years and his information has been pretty reliable in the past. Note that I haven't played the stand on line game in quite some time. Also note that he doesn't know I write for GBM. He just knows me as a customer.
Anyway, I stopped by the store as a part of my yearly ritual and we had a nice chat. View everything I report here through two filters. First, this guy can only say so much and most of that is what he's told by higher ups. Second, keep in mind that while AT&T and Apple are partners they are also somewhat in competition, and this guy also has a Verizon store right across the street.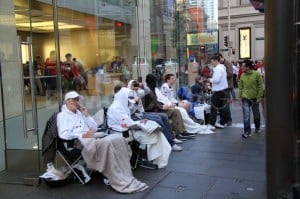 The info I gathered this year is this. AT&T stores nationwide are shorter on iPhone 5 inventory than they have been on new iPhone inventory the last two years. "A lot of folks are going to be disappointed" is the quote. He claims that Apple underestimated the pre-order volume and is not sending as much stock out to any vendors. He volunteered that most of the phones he's received are the white models. He has very few black 32GB models, no black 64GB, and more white than black of the 16GB model. He says they usually receive shipments twice if not three times a day during this period. But this year that won't be the case, only one shipment per day over the next week or so.
He also said that there is intense interest in folks wanting to purchase the $99 4S and the free iPhone 4 and that they are expecting a brisk move on that inventory, of which they have plenty. He also volunteered that if you are caught with a contract date that doesn't give you the upgrade price but are willing to buy AT&T's insurance for your phone they probably will work with you, depending on demand.
Also note, the picture is not of a line anywhere near where I live but from Sydney, Australia.
As I said, I'm sitting out the early rush and pre-order frenzy this year. Keep in mind the info above may or may not be an accurate accounting of anything other than one manager's viewpoint. But the pieces do fit together with the brisk pace of the iPhone 5 pre-order. So, I offer this for what it is worth.

As an Amazon Associate I earn from qualifying purchases.