AT&T to add BlackBerry Curve 3G and BlackBerry Pearl 3G to lineup
AT&T is already the exclusive US provider of the Torch, and today they have announced they will add the BlackBerry Pearl 3G and Curve 3G to their lineup too. The Pearl 3G will be available for $149.99 in mid October while the Curve 3G date is not yet announced. The press release says the Curve 3G will be here in time for the holidays at the $99 price point. Also mentioned was something that I have been wondering about, data plans. It looks like AT&T is adopting the same price model as they use for the new iPhone users for other devices. $15 for 200 MB of wireless data or $25 for 2 GB. I was wondering this for their Windows Phone 7 models that should be hitting in the next month or so.
The BlackBerry Curve 3G, the first 3G BlackBerry Curve from AT&T, features the iconic BlackBerry design with a full QWERTY keyboard and optical trackpad. The new smartphone features built-in GPS, as well as dedicated media keys, so music lovers can easily access their tunes while on the go. It also features a camera that can record video and a microSD/SDHC slot that supports up to 32 GB memory cards for media storage. Support for 3G networks makes browsing faster, streaming music smoother, and gives users the ability to talk on the phone while they browse the web, instant message with BBM™ or share their location with friends on popular social networking sites. The BlackBerry Curve offers an exceptional BlackBerry experience at an affordable price.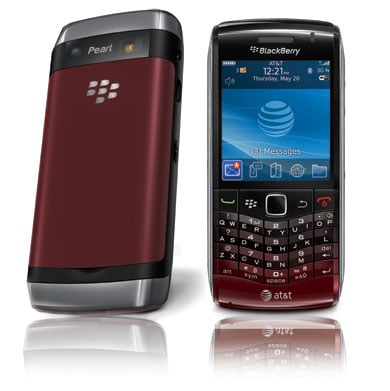 The BlackBerry Pearl 3G smartphone is the smallest BlackBerry® smartphone yet and is as powerful as it is compact. Measuring less than two inches wide and weighing only 3.3 ounces, it still manages to pack in support for high-speed 3G networks, Wi-Fi (b/g/n) and GPS along with a high resolution display. It also features an optical trackpad for smooth navigation, dedicated volume and media keys for added convenience, a 3.2 MP camera with flash for quality pictures on the go, and support for up to 32 GB of personal content. The BlackBerry Pearl, available in a red gradient, is ideal for customers who prefer a compact device, but still want a smartphone that delivers a full BlackBerry experience.
It's definitely great to have choices and AT&T's BlackBerry choices are immense, but myself personally, I would choose the BlackBerry Torch over these two. Any BlackBerry users looking forward to either of these? My wife used the Pearl for a couple of years, but ever since she switch to the iPhone, she doesn't even look at other phones. She is faithful to her one and only phone right now.