AT&T to Impose Speed Tiers and Data Tiers for 4G LTE Plans
A leaked document obtained by BGR reveals wireless carrier AT&T's plans on imposing different types of tiers for its 4G LTE smartphone plans. Although the carrier will utilize the first half of 2011 to transition to HSPA+ and market those smartphones as 4G, it will be launching 4G LTE smartphones, like rival Verizon Wireless, in the second half of the year. When that happens, the carrier wants to impose pricing based on speed tiers and one based on data caps.
Speed tiered data pricing would be similar to landline broadband data where users would pay more for faster speed access. Users who choose a slower speed could pay a nominal fee to temporary boost their speeds through a program that AT&T refers to as "Speed Up Sessions," should they temporary need faster speeds for a short period of time.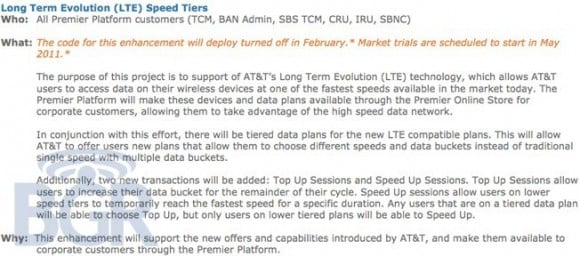 Similarly, those who opt to go with data bucket pricing, which is similar to what is being offered currently on 3G data, "Top Up Sessions" would increase the amount of data a user can consume temporary for the billing cycle. Those who choose data bucket pricing would experience caps based on data use, such as the current maximum of 2 GB for $25 on AT&T's 3G network.
According to BGR, the carrier is expected to begin trials of these new tiered pricing structure in May 2011.
AT&T's move is somewhat expected as the carrier is the first of the four major U.S. carriers to abandon unlimited smartphone data in favor of a tiered and capped data pricing structure. The move to impose a 2 GB monthly data cap per month is in response to criticism that the carrier didn't provide optimal coverage and reliability in more densely congested urban environments, like the San Francisco, California and New York City markets. The carrier noted that most smartphone users didn't consume over 2 GB of data and as a response chose the figure as a cap.
Whether new data plans and policies will affect smartphone development and innovation is unclear. Rival Verizon Wireless is expected to also follow AT&T in creating a different pricing plan for its 4G LTE devices based on changes in its marketing language, which now denotes smartphone plans as "3G" Smartphone Plans. As smartphones get more sophisticated and apps and services turn to the cloud, the potential for innovation may get capped with higher data charges or tariffs as consumers may not want to pay higher charges for consuming content. The iPhone had brought a surge in AT&T's data usage as it showed the potential of capturing images and videos, sharing those memories, streaming music and videos, and also browsing the Internet and downloading content. As we look towards the cloud in the future for storage and streaming, smartphones may not become so "wireless" as we'll soon need to be tethered to an invisible wire called WiFi to save our data buckets and become less dependent upon mobile broadband to save money.

As an Amazon Associate I earn from qualifying purchases.