AT&T Intros Unlimited Data Plans, But There's a Catch
Truly unlimited data plans from wireless carriers are very rare these days. Verizon recently removed them, AT&T did back in 2010, and those with old grandfathered plans received price hikes from Verizon. However, today AT&T re-introduced unlimited data family plans, but there's a big catch.
Essentially AT&T announced something very exciting this morning. Unlimited video streaming, data, talk and text for a family of four at just $180 a month. And there's no throttling or poor video quality like T-Mobile. They took a shot at T-Mobile in the press release itself. It sounds like a great deal, but there's a catch or three in there users need to be aware of before heading to an AT&T retail store.
AT&T recently bought DirecTV, which is a major aspect of this deal. Customers who are excited about getting unlimited data will only be able to get it if they have DirecTV, sign up for it, or use U-Verse. Read on for more details.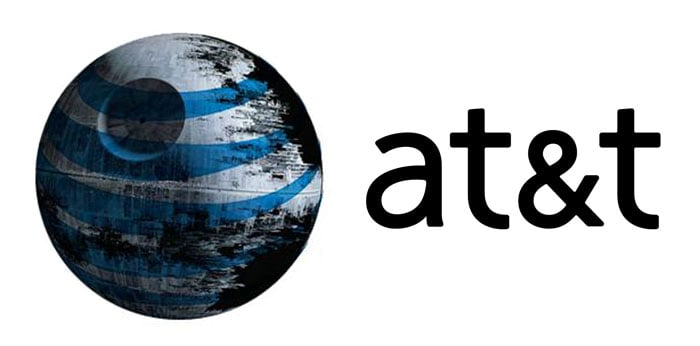 Here's how it works. Those with DirecTV or U-Verse that sign up for an unlimited data plan from AT&T will get unlimited everything mentioned above for $100 a month for one line. So $60 and each smartphone is $40 more a month, and the fourth line is free. Making it $100 for one line, $140 for two lines, $180 for three lines, and $180 for a family a four, as that last one is free.
Then of course AT&T's new truly unlimited video and data plans work with smartwatches and tablets. Each tablet is $40 a month (or $10 for 1GB), smartwatches are $10 a month, and basic phones are $25 a month all as add-ons to the original $100 plan and single line. The image below explains it in more detail, and has a few of the "catches" at the bottom.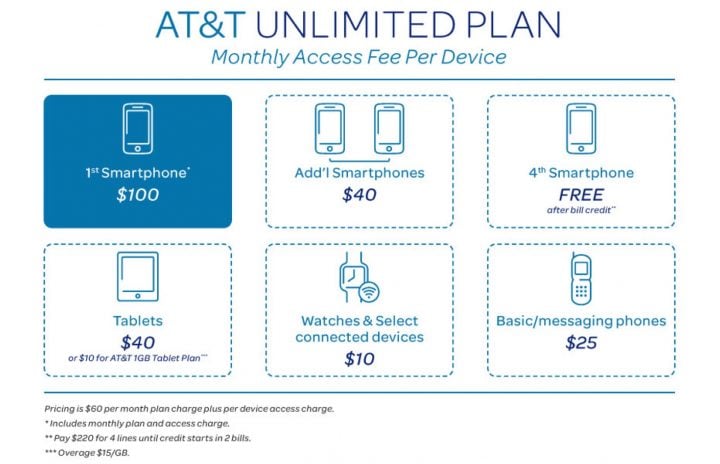 The deal has another added benefit, AT&T will cut $10 a month off current DirecTV subscribers cable bill, for life. Which makes this deal sound even better. However, that's the big catch, no AT&T customer can get this unlimited data unless they also have a subscription to AT&T's DirecTV cable service or U-Verse TV.
Above users will see that the fourth free line isn't free the first two months, and users will pay $220 a month, then once the fourth line becomes free the bill will be $180 a month. For whatever reason. They mention overages for gigabytes used, but isn't this unlimited? Another huge problem is throttling. In the fine print AT&T states that "after 22GB is used each cycle (month), AT&T may throttle or slow data speeds." So keep that in mind. This deal is not available for those with business accounts, and it's not valid in U.S. Virgin Islands or Puerto Rico.
On Twitter many were excited about unlimited data, thinking it could replace cable with Netflix, Amazon Prime or Sling TV, but that isn't possible, as users will be required to have cable to even be eligible for unlimited data. Or sign up for it and ditch their current TV company. That said, those who already enjoy DirecTV or U-Verse now have a compelling option for unlimited everything from AT&T, and will save $10 a month on their cable bill at the same time.
Read: 9 Reasons I Switched to T-Mobile
It's worth noting that those who have old 2010 or older "grandfathered" unlimited plans from AT&T during the old iPhone days, will be seeing their bill go from $30 a month now, to $35 in February. They're raising it just like Verizon did last year. Nothing will ever be as cheap as those old unlimited plans, but at least users now have the option. Well, some of them at least.
AT&T's new Unlimited Everything plans will be available starting tomorrow, January 12th, at a store near you. I'm still hoping this buyout of DirecTV means AT&T will offer the NFL Sunday Ticket to wireless customers one day. We can hope, right?