AT&T Video Bill Shows and Explains Charges
AT&T shipped me a bill this month that included a link to a video that explained all of the charges to the bill. The video didn't just include generic explanations, but somehow showed real figures from our monthly bill.
The email's subject read, "Your AT&T Wireless Bill is Ready, with Highlighted Changes, for Viewing!" That last word made me do a double take. "Watch?"
This video bill apparently started last winter, but I'd not seen it before. Let us know in the comments below if you've received one of these for a wireless account before.
The body of the email reads as follows:
Dear Kevin,

Your wireless bill from AT&T is available on video to help you understand the recent change you made to your service. You will continue to receive your official paper bill by mail or paperless bill at att.com.

Watch your video bill now for a personalized explanation of your bill. We hope that you find it helpful.

Thank you for being a valued AT&T customer.
https://youtu.be/3Mbkyo_Hz0k
Click on the button that says, "View Video Bill" and a new browser tab opens showing the video bill without any login needed. On my bill, the narrator began, "Thanks for choosing AT&T, Kevin." It didn't sound like an old-school computer generated voice. Instead she sounded like she was actually reading the script with the name and due date.
First, the video explained the "Bill at a glances section," that summarizes the bill. The image on the screen shows the users Previous Balance, Payments, Adjustments, Balance and New Charges using the figures from the bill.
Next, an orange square shows up and gives the total amount due and due date in the video. The audio tells the user when it's due. They don't give the amount audibly.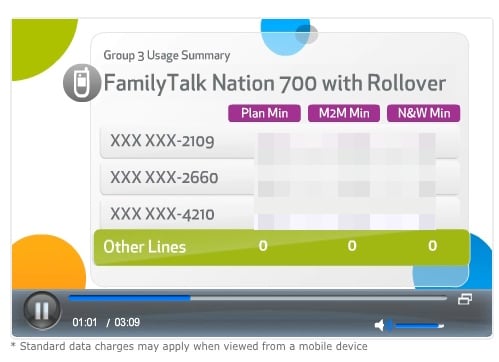 After the bill summary, I got a service summary per line. It shows how much they charged my account for each of the lines. The video discusses the data plan with usage numbers for each line. Next I got roll-over voice usage per line. The video also gave a detailed look at one line to explain the monthly and extra charges like taxes and fees. The overall bill's "Other charges" section got explained. They even explained charges for a recent change where I sold a smartphone and added a feature phone for a week.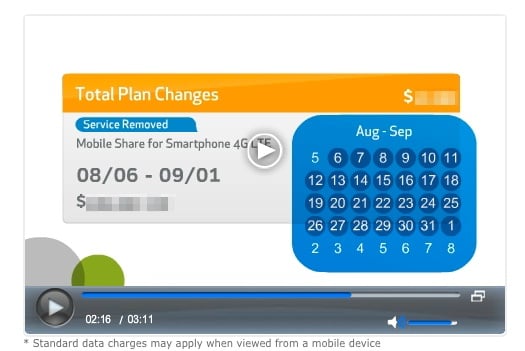 Finally, I was told about auto-pay and asked to fill out a survey.
I liked the video bill, and think that people who don't know a lot about the various kinds of charges they see on their bill will love it.

As an Amazon Associate I earn from qualifying purchases.