AT&T Windows Phone 7 Handsets Won't See NoDo Update until End of April
Bad news for AT&T's Windows Phone 7 handset owners as Microsoft has confirmed that the LG Quantum, Samsung Focus and HTC Surround still need additional testing before they get the NoDo update which means the update likely won't roll out until the end of April.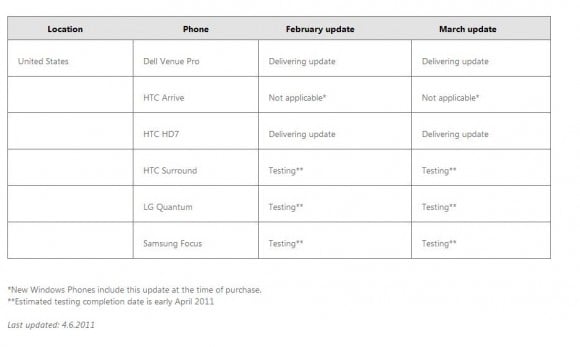 Last we heard from the AT&T devices was at the end of March when they entered the 'Testing' phase on the 'Where is my update?' website that Microsoft maintains in order to alert WP7 owners to NoDo developments.
This week, instead of a change from 'Testing' to 'Scheduling' as was expected, the devices will instead remain in 'Testing' for the foreseeable future. Of course, Microsoft's page still says testing will end in early April but it's the 13th and we're essentially in mid-April now.
Once Microsoft updates from 'Testing' to 'Scheduling', it'll still be around two weeks before the update gets out, so thus, we're looking at the end of April as a viable time for the update to roll out to AT&T handsets.
Of course, Microsoft's Eric Hautala who is the GM of Customer Experience Engineering expects to have more info soon, but we're not exactly sure what soon means at Microsoft. The company had promised to get this update out to Windows Phone 7 device owners in March but we're now approaching the beginning of May.