AT&T Wireless Website Stutters Under iPhone 4S Traffic
If you're headed to AT&T Wireless' website to pre-order the iPhone 4S, you better be patient, be willing to hit the refresh button, or be open to trying other sources to get your pre-order on. The website has been stuttering under heavy volume of traffic through the evening due to new and existing customers checking upgrade eligibility, learning more about the new iPhone 4S, and now, pre-ordering the iPhone 4S.
There are other options to get your iPhone 4S pre-orders, including Apple's website. Other big box retailers will also be carrying the Apple flagship smartphone as well, including Best Buy, Target, and Radio Shack.
Currently, AT&T's website is completely down just when iPhone 4S pre-orders are starting.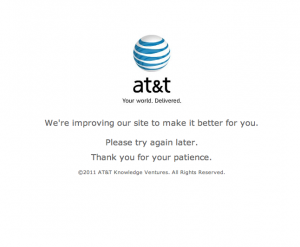 As an Amazon Associate I earn from qualifying purchases.