Attack of the E-Book Readers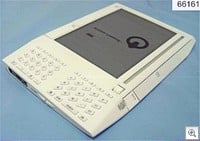 Amazon.com is gearing up to release its Kindle E-Book Reader on Monday. Seiko Epson is readying their E-Book reader and we've also heard news recently from CyBook. Of course not a week goes by without hearing about Sony's reader. There is obviously a market here, but I'm not in it for a couple of reasons. I'd rather read E-Books on mobile devices that can do more than just be a reader (although some of these devices have other functions.) And, I've moved away from E-Books just because for one reason or the other I keep falling victim to the DRM schemes that are there to protect copyright. It's a big turn-off to find myself with time on my hands, wanting to read a chapter or two, and then discovering I've got to re-activate, and be on-line, in order to do so.
I still think there is a real market there, but I think there has to be a better way to make the content more easily and readily accessible. Maybe Amazon will change that.

This article may contain affiliate links. Click here for more details.