AT&T's 5th Annual Developer Summit works with CES 2011
AT&T announced it's 5th Annual developer summit yesterday. Good news for those headed out to Vegas for CES 2011, you can knock out two birds with one flight. The two events will work great together, they are both in Vegas and the Summit is the day before the show. Unless you are headed to Pepcom's Digital Experience the night before, you shouldn't have any issues. Wait, how many developers are also press. I am writing to different audiences in the same sentence.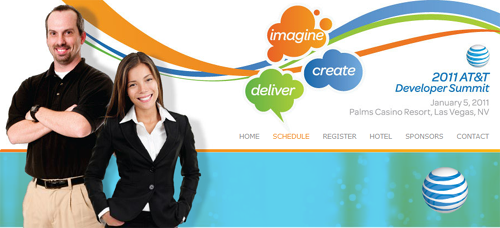 The summit will feature  AT&T Mobility and Consumer Markets President and CEO Ralph de la Vegas and will be held in the Palms Casino and Resort. The event is sponsored by some biggest names in mobile, LG, Microsoft, Motorola, Nokia, RIM, Samsung, and more.
There is a full schedule of sessions already available for viewing on the website if you want to decide whether or not you want to attend. Some nice topics like HTML 5 and "Romancing the Tablet" are on tap too. Software developers can learn more and register here.
Source: WP Central