AT&T's Upgrade Fee Doubles This Sunday
While many of you may have been on board with the changes that AT&T recently made to its tiered data plans, we still wish there were more options, you're probably not going to like the change that the carrier will be bringing about this Sunday.
The company has confirmed to Android Central its plans to double its fee from the current price of $18 to a whole $36.
Again, that change is set to go into effect on Sunday, February 12th.
So you might be wondering to yourself, why in the world is AT&T doing this?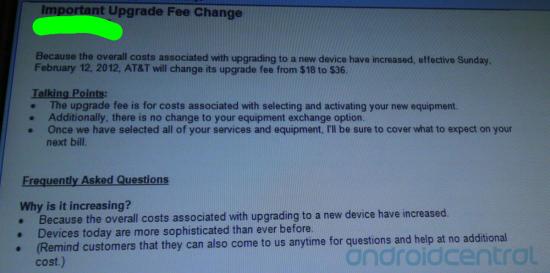 Well, here's what the company had to say:
Wireless devices today are more sophisticated than ever before. And because of that, the costs associated with upgrading to a new device have increased and is reflected in our new upgrade fee. This fee isn't unique to AT&T and this is the first time we're changing it in nearly 10 years.
So what this means is that if you're at the end of your contract on Ma Bell and you're looking to get a new phone, after Sunday, you're going to have to fork over $36. Those of you with an iPhone 4 who are planning to upgrade to an iPhone 5 when it arrives sometime later this year are probably shaking your heads right now.
In AT&T's defense, other carriers charge more than Ma Bell's $18.
Sprint charges customers $36 to upgrade while T-Mobile and Verizon both charge $35. So it's not like this is anything new. Still, it's not going to be a welcomed change amongst the masses who already feel they're getting nickel and dimed by service providers.
For those of you that are looking to get a new phone with AT&T, you'll want to do so before Sunday lest you have to pay $18.

This article may contain affiliate links. Click here for more details.