Aurora HDR 2017 Photo Editing Software from MacPhun Review
MacPhun's Aurora HDR 2017 photo editing software focuses on creating beautiful high dynamic range photos. When a photographer creates HDR, they can create photos with a wide range of color with extremely bright and extremely dark areas. HDR photos can also have a beautiful, almost surreal, colorful effect.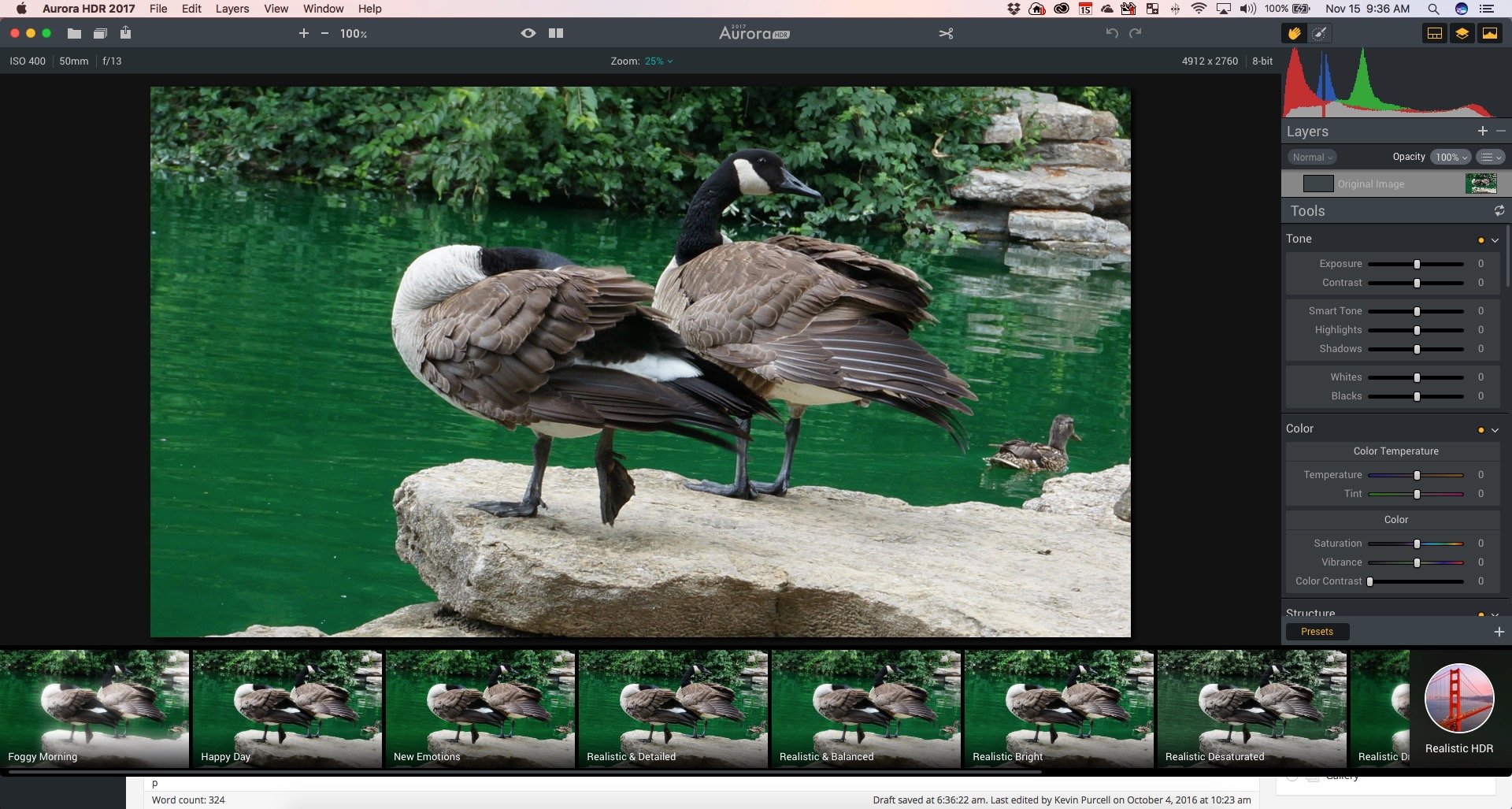 Aurora HDR got an update recently and we decided to take this opportunity to review this powerful and complex photography tool. Some of the new features in Aurora HDR 2016 include the following:
Speed Improvements – MacPhun claims a 50% increase in image processing speed.
Polarize Tool – which makes it look like you put a polarizer filter on your lens as you shoot things like landscapes resulting in richer, deeper colors
Batch Processing – take bracket shots (three or more images taken at different exposures to capture a wider range of light) and drop all of them on the batch processing tool (see image below) and Aurora HDR 2017 will automatically combine them into a blended image.
HDR Noise Reduction – automatically removes low-light color noise with improvements in this version.
Top and Bottom Adjustments – control exposure, contrast, vibrance and other processing tools on either the top or the bottom or both without affecting the other half so that landscapes get some auto processing on the sky while leaving the land alone.
Luminosity Masking – click on a zone, like the sky in a landscape, and enhance just that part based on the photo's luminosity.
Radial Masking – place a circle over round objects or areas of your photo and process only that area or only the areas around it.
Advanced Tone Mapping – the improved tone mapping results in photos with more sharp, natural results showing more detail in the extreme ranges (bright and dark) with less noise.
See more about what's new on the Aurora HDR 2017 site.
Simplicity vs Complexity of Aurora HDR 2017
The software designers of Aurora HDR 2017 did a masterful job of creating a simple tool that a neophyte can use quickly to make a nice HDR photo. Shoot three shots of a scene with dark shadows and bright shiny skies. Then let the program merge them into a nice photo. Open the program, click on the Batch Processing link in the opening splash screen and then drag photos from Finder to the resulting box. Click on Continue to let it do the work.
However, after Aurora HDR 2017 does its magic, you can then adjust the resulting photo in a few ways. The simple user-interface includes quick click filters. Pick a filter (you'll find them below the photo after the program processes the image or images) and then adjust the slider that shows up on the filter's preview box. The slider changes the filter's intensity. Once you're finished with the image, then you can export it and you're done. That's quick and simple photo processing! The results look pretty good. Aurora HDR 2017 takes about 10-30 seconds to process the photo depending on the speed of your Mac and the size of the image.
Take a look at a few of the examples below of a photo I processed a few different ways using nothing but the batch processor and the filters.
While the simple tools make Aurora HDR 2017 accessible to beginning level photo editors, it also includes some powerful editing tools. Go through the above process to start things off, but then use the advanced features to fine tune the results.
The advanced features show up along the right, like they do in Photoshop and other powerful photo editors. We get…
Histogram
Layers
Opacity
Tone adjustments
Color correction including temperature and color
Structure with clarity and detail
HDR Denoise adjustments
Polarizing Filter slider
Details with tabs for Global, Highlights and Shadows
Glow
Top and Bottom adjustment which affects the top or the bottom only
Orientation
Tone Curve
Hue, Saturation and Luminance
Color Toning
Vignette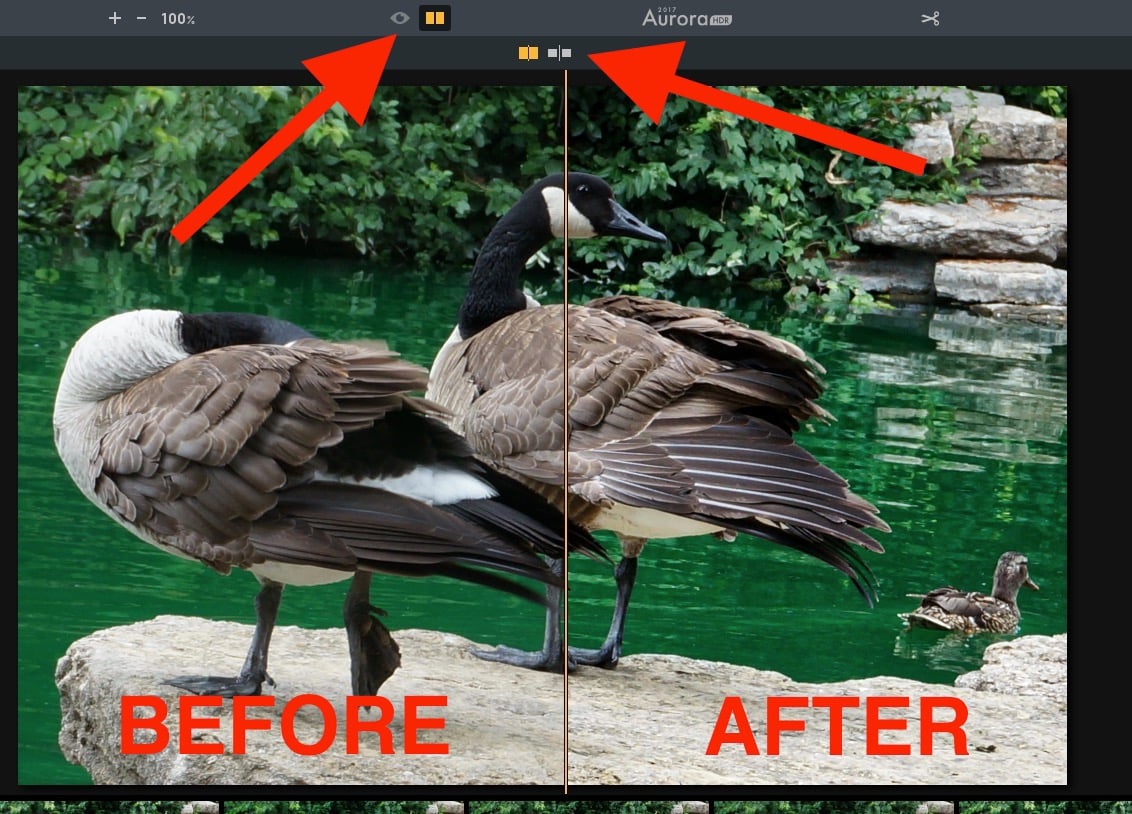 If you know what all of those do, then you'll definitely enjoy using these advanced features. If you don't know what they are, you can play with them to see how they affect the image. Aurora HDR 2017 includes a great tool for comparing the before/after. Click one of two buttons in the top row above the image. The eye icon shows the image as it looked before editing. The other button that looks like a yellow rectangle with a line through it. It shows either a side-by-side view or a view or the full image with half showing the original photo and the other half showing the edited photo. Choose between these two side-by-side options using the icons in the second row above the image.
MacPhun's Great Photo Tools
MacPhun is really challenging Adobe. Aurora HDR 2017 is not as full-featured as Photoshop or even Lightroom, but if all you want is a good photo editor, it's an excellent alternative. Add to that their other programs, and you get some awesome photo editing tools.
Aurora HDR 2017 costs $99. They sell the MacPhun Creative Kit in three editions like the Starter's Edition ($99.99 on sale) includes following:
Snapheal – remove unwanted elements from a photo by drawing over them and let the program take it out
FX Photo Studio – a filters program with some artistic filters to create things like pencil sketches or alternative color looks
Intensify – uses things like sharpening or contrast to create intense images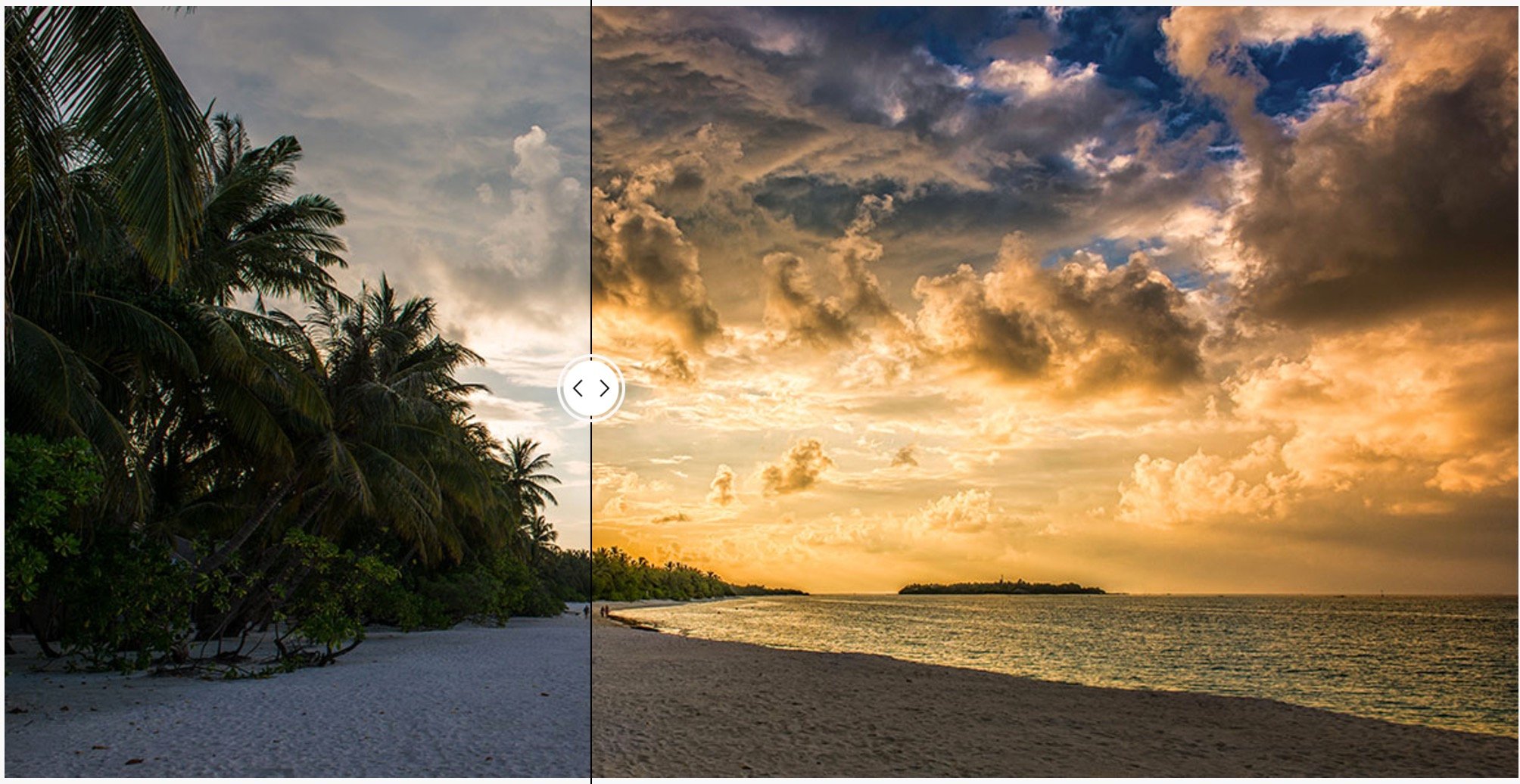 The Complete Kit adds the following:
Focus – mimics professional lens effects like a narrow depth of field or lensbaby look
Noiseless – great noise reduction tool
Tonality – create nice black & white photos
The Complete Kit Premium adds Pro Training, which teaches users to take great photos and how to use the Creative Kit to edit them.
I created the above image using Aurora HDR 2017 with three images using exposure bracketing of .3 exposure compensation. After the program combined the images, I opened it in Snapheal and removed some distracting elelements, like a volleyball net down near the grave yard. I also removed the small corner of a concrete back porch of my house, which you can't see. It's on the right just out of the frame. Finally, it also removed a house in the distance in the upper right corner. Here's the middle original exposure.
Luminar
MacPhun has a new tool called Luminar. It costs $59. They bill it as…
… the world's first photo editor that adapts to your style & skill level. Luminar is the supercharged photo software that makes complex editing easy & enjoyable. And it is as responsive and beautiful as your Mac.
I haven't tried out yet Luminar, but you can download the trial version and try it out yourself. Luminar comes with an adaptive user-interface, meaning it will change based on what you're doing or how skilled you are at editing photos. It also keeps the original photo so you can always go back if you make a mistake. The program supports the important photo editing features like…
RAW images
Filters
Layers
Masks
Black & White processing
Object removal
Color toning
History panel
Plug-ins and extensions

As an Amazon Associate I earn from qualifying purchases.