Australian Police Advises Motorists Against Using Apple Maps
Apple's iOS Maps app and mapping service has gained a new critic in the form of the Australian police force. In Victoria, police are urging motorists against using Apple Maps, citing that egregious misdirection from the fault may cause potentially life threatening situations.
In particular, the app's routing to the city of Mildura to the middle of Murray Sunset National Park is incorrect as the city is located some 70 kilometers away. This is potentially life threatening, according to Victoria Police, as there is no water in the park and temperatures can go as high as 46 degrees Celcius.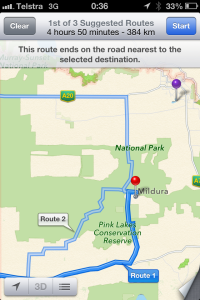 While Apple's mapping performance in the U.S. aren't all too terrible with the occasional errors, TechCrunch is reporting that many of the errors in the mapping service are for countries outside the U.S. Berlin was renamed at one point and Jakarta had disappeared. Those errors have since been corrected.
With the release of iOS 6 and the launch of the iPhone 5, Apple had replaced Google's mapping service on its Maps app in favor of its own home-grown mapping service. There had been plenty of speculations about the rivalry between the two companies leading to Apple's switch, and Apple had demonstrated a number of visually satisfying features for its new mapping service. However, as errors popped up, Apple CEO Tim Cook was forced to issue a public apology and iOS head Scott Forstall was forced out.
Though Google's mapping service on iOS had proven to be reliable, the service isn't without faults either. Using Google's mapping service, Apple was not able to deliver voice-guided turn-by-turn navigation until it switched to its own mapping services.