Avid Studio for iPad: Great Potential, But Too Unstable
I downloaded the new Avid Studio iPad video editing tool when it launched last week and tested it out this weekend after shooting some video of my kid's recreation league basketball game.
Avid Studio for iPad has great potential as a mobile video editing solution, but it proved too unstable to be usful.
If the app didn't crash so much, I would gladly replace iMovie with Avid for simple video editing on the go. The app crashed a lot rendering it nearly useless.
I shot all the video on my iPhone and transferred it via the iPad Camera Connection kit over a USB to Dock sync cable. The app lets you import any video in your camera roll or you can shoot video with the iPad 2 camera. Since it only works with video in your camera roll, you can't use AVCHD video from your digital video camera.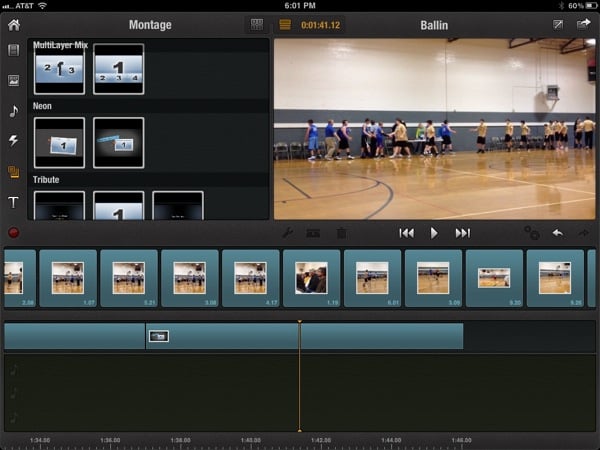 After adding all of my video, I was able to organize the clips into a decent video and split segments or trim the front and back end of each video with the precision editing features. You can add simple dissolve or fade-to-black transitions, pictures and audio from iTunes. It doesn't support voice over, unless you record the audio with an external video recording app.
Avid offers some decent title or credit animations, but that's what seems to crash the app. Rendering the nice animations at the beginning or the end killed the app requiring multiple restarts.
Here's the short video I created of my son's basketball game in the local rec league. Daniel is #10.
https://youtu.be/bujsWbuHN3s
When you finally finish the video, you can render it and save it to your iPad camera roll which allows you to off load it to a computer via iTunes. You can also email your video, post it on Facebook or YouTube, or export it for further editing in the PC version of Avid Studio.
If the app didn't crash so much I'd love it. That kind of criticism is like saying, "If the car didn't stall every ten minutes, it would be the fastest one you could buy!" That lone problem makes it nearly useless. Instead of rating it four or five stars I'd have to give it only one or two stars.
On the upside, the rendering finishes quickly. If you've used iMovie, you'll be able to pick up the app and edit quickly. I like the animated montages for intros or credit animations, but you have to render them before you see them in their full splendor. That's the case with many desktop editing tools.
Some might not like that it only offers two transition options – fade-to-black and cross-dissolve, but that's actually a good thing. You can spot a beginning video editor's work by counting the number of wild transitions they use in their videos. Limiting to these two keeps users from destroying their own work.
I had a couple of other minor complaints. Each time you open the app it asks if you want to rebuild the library of media, even if you haven't added any new media since the last tie you opened the app. That's a bit annoying.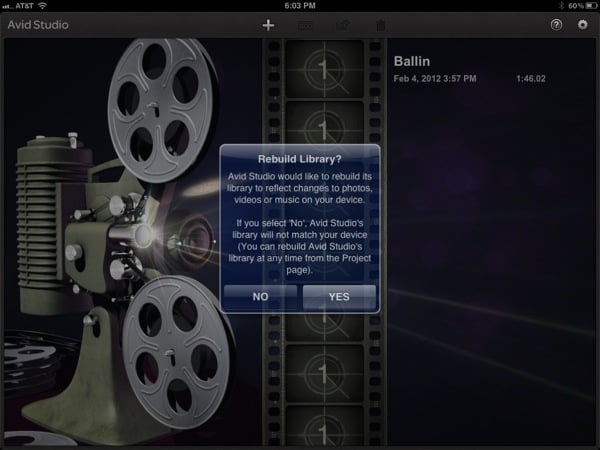 When you choose to export your video to YouTube it automatically entered Avid as a keyword and the description automatically says that it's made by Avid. Many apps do this, but I hate it.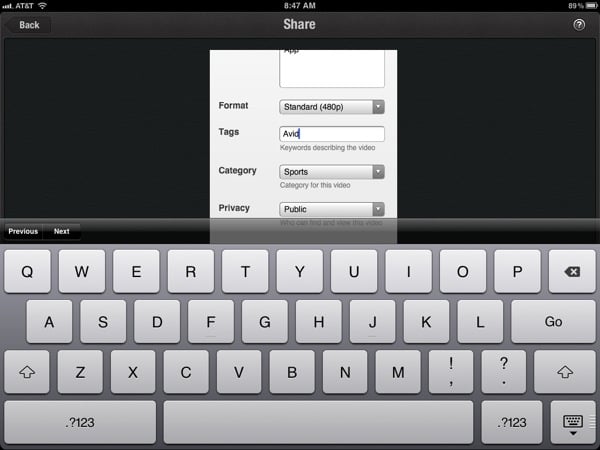 The app only costs $4.99. If Avid fixes the stability issues, they have a big winner. I'm hopeful! Until then, Avid can't replace iMovie for mobiel video editing.
The real question: can this app or any other video editor on the iPad drive me to replace my computer for video editing. With a stable Avid the answer is almost! It's easier to use than iMovie, but only if it doesn't crash.