AViiQ Portable Charging Station: Convenient Power on the Go
The AViiQ Portable Charging Station gives you a convenient charging and syncing hub for the road, housed in a nice nylon zippered case. If you bring three or four USB powered devices with you on the road this charging station will be a worthwhile accessory. While I recommend the iHome iB969 charging station at home, this device charges all of my devices on the road.
Convenient Charging
The case unzips to reveal a charging hub with four USB ports, an AC adapter with a cable that wraps around it and retractable plugs. It also has pockets for cables and other accessories. The case holds the power adapter in place with an elastic strap right next to the hub. Release the adapter, unwrap the cable and plug it into the USB hub. Retract the prongs on the wall adapter and plug it into a wall outlet and you have USB power in a small package.
The case itself measures 10″ long x 4.75″ wide x 1″ thick. While that may seem large for a charging solution, compare it to the size of four power adapters. In my case this saved me some room in my computer bag.
Inside the case, pockets hold your power cords. Plug the USB cords into the hub and then coil them up and tuck them into one of the pockets just above the hub for storage. When you need to charge a device, just pull the cable out of its pocket and plug it into your phone, iPod or tablet. Yes it has enough power to charge an iPad.
The hub comes with 3 power only ports and one data syncing port. Plug your device into the data port and the retractable USB cable on the bottom of the hub into the computer. You can then sync an iPad, iPhone, iPod or Android device. Anything that syncs with a PC or Mac via USB will work. AViiQ marked the data port so you can easily distinguish which one syncs.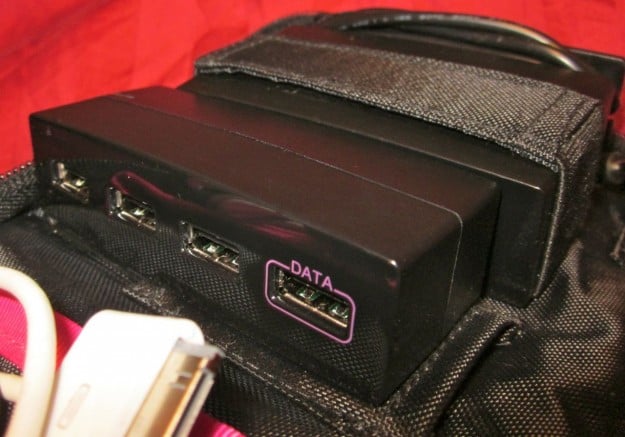 On the other side of the case you will find a mesh pocket for accessories or something like a portable wireless hotspot. I put my MiFi in along with the charging cube for my iPad just in case I needed it.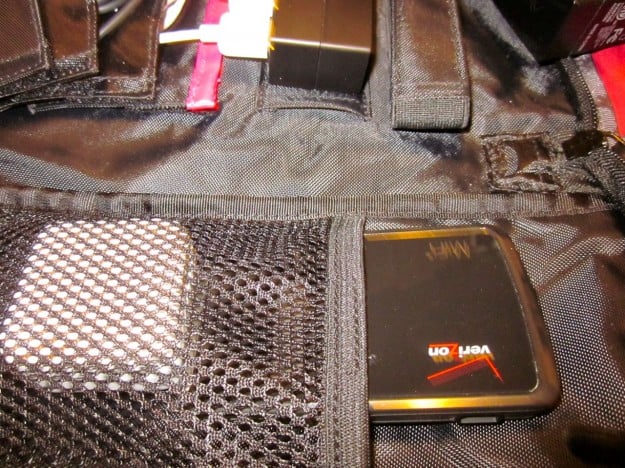 You can watch the company's demo video below:
Recommendation and Pricing
At $79.95 this product feels expensive considering you are just buying a case that stores charging cables and a USB hub. You could get a generic case and 4-port powered USB for less, but not in this convenient package and not designed to hold all your cables, the hub and wall plug.
I really liked this product and found it useful on a trip I took recently. My family and I travel with three smart phones, an iPod Touch, and two iPads and an Android tablet. Motel and hotel rooms seldom have enough AC outlets for us when you add my laptop and my sons' laptops. We had to bring a full power strip on our long vacation this summer. With the AViiQ Portable Charging Station on our most recent trip, we left the huge power strip at home and plugged all of our phones and my wife's iPad into this thing. It worked great. That left the other three outlets in the hotel room for our computers, and I plugged my iPad into my Mac.
The USB hub and wall adapter, which are made of plastic, feel a little cheap, but they work and I doubt that they will break unless you abuse them, so that's a minor issue. Also, the cables, when tucked into the pockets and plugged into the hub, get a little crowded making it hard to access them or put them back into their pockets. The pockets were placed a little too close to the hub.
You can get one directly at AViiQ for $79.95. I recommend it without reservation.
Pros
Convenient case
Charges multiple devices
Syncs with a PC
Room for four cables and accessories
Keeps computer bag less cluttered
Cons
Plastic hub and power adapter feels cheap
Pockets too close to hub

As an Amazon Associate I earn from qualifying purchases.