Avoid Surface RT Black Friday Deals
Black Friday is upon us and retailers everywhere are showing off their ads trying to prime you to stand in line and create chaos at their stores so that you can save a few bucks. There's no denying that there are good deals available and of course whether or not there is a value in the savings all depends on how you value your time. You'll see pages and pages here at GBM on Black Friday deals because we do want to help those looking for a bargain on some great gadgets and accessories save when we can. But, and this is an personal opinion here and only my opinion, there's one deal that is circling around the ad circulars that I think you should avoid.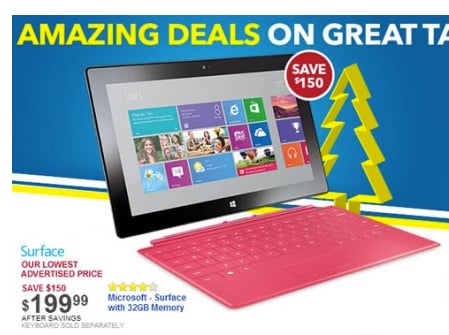 Microsoft in its own channels and at other retailers is discounting the original Surface RT Tablet quite significantly. Launched last year, the Surface RT had a starting price of $449 and was a flop to measure flops by. It was great hardware crippled by lousy software implementation, ran slow, crashed often, and didn't know what it wanted to be. It left users confused and retailers seeing quite a few returns. Microsoft ended up taking a $900 million write down because of unsold inventory. Like I said it was a flop. You can bet these sales are to try and clear out unsold inventory.
Read: Microsoft Surface RT This Thing Confuses Me
Microsoft is on its way to redemption with the second generation Surface 2, a greatly improved experience, but you won't find that on sale this Black Friday. The introductory price will still be $449.
Read: Microsoft Surface 2: Less Confusing More Viable
Why do I think you should avoid these Surface RT deals? Well, there's the fact that it was a flop. Most importantly though, you'll be buying last year's hardware. One of the big issues with the original Surface RT was that it was extremely slow. To be fair users who have updated to Windows 8.1 have said there are some performance improvements, but I would suggest not enough to get stuck with a pokey system. Let's put it this way, you won't be playing Asphalt 8 acceptably on this device. (It was just released.) I would compare it to buying a horse and buggy in the age of automobiles. Not the age when they were first introduced. But today. OK, maybe that's an exaggeration.
All of the above said, there are a few legitimate reasons for looking at Surface RT Black Friday deals.
It's a great Netflix, Hulu, or Xbox video machine. You'll get a nicer picture on the later model, but the original was still quite nice.
You do get Office 2013 for free.
If you want to use Remote Desktop it does work well on the Surface RT.
You'll want to buy a Touch or Type Cover for the device and the original Surface RT will work with the newer versions of those.
You can read Kindle or Nook books on the device, although I find the 16 x 9 widescreen format not conducive to reading. The newer Surface 2 is better balanced and makes reading anything in portrait mode a little easier to take over the first version, but still awkward.
Keep in mind that Windows 8.1 and the free Apps Microsoft installs eat up a lot of storage. On the 32GB Surface RT you have 18GB available for your Apps and data. On the 64GB you have 47GB available.
Price cuts Microsoft has listed include a $20 cut off the price of the 64GB Surface RT marked down to $379 from $399. The 32GB version will go for $199 which is $150 off the regular price. Microsoft is playing some hide and seek games with its Black Friday promotions as these prices which were listed earlier are now hidden and will supposedly not be revealed again until midnight ET on November 28.
Best Buy will be offering the 32GB Surface RT at $199. A Type or Touch Cover will be sold separately.
Staples will be offering a 32GB Surface RT WITH a black Touch Cover for $250 which looks like the best deal out there if you're interested. That said, the Touch Cover will be the original version not the newer version that is a much better option.
Again, these are my personal opinions here. I can't speak for anyone's personal situation but my own. But I know how easy it is to get tempted by what seem like great deals and thought it worth pointing out some of the reasons I wouldn't take this deal, as well as some of the reasons you might.

This article may contain affiliate links. Click here for more details.