Baby Reviews Verizon 4G LTE, Doesn't Like 4G Outages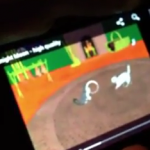 Babies don't like 4G outages any more than adult Verizon customers. At least that's my recent experience with my son, who does a pretty good job of expressing his feelings toward Verizon when 4G disappears for no apparent reason. People have every right to be upset when Verizon as its 4G LTE service has gone down nationwide four times in less than a year and  sporadically disappears from some neighborhoods.
Verizon's speedy wireless services is absolutely fantastic when it's working. But outages like the one we saw today are simply too common. Customers who've come to rely on the speedy network for both work and play are left in a lurch when they're not able to use the service they pay for.
Take for example my latest negative experience with Verizon 4G LTE. The other night my son and I were waiting for my wife in a Whole Foods parking lot in Noe Valley, a San Francisco neighborhood that's blanketed in wireless coverage from all carriers and home to many workers from all the big name Silicon Valley companies, including Google. It was nighttime and my son wanted to watch Goodnight Moon on YouTube. He's only 10 months old, so he didn't explicitly ask to watch the video, but I was able to figure it out based on his routine and and the fact he grabbed my Galaxy Nexus and started tapping at the screen. I hit play on the video and waited for quite a while for it to start playing. When it finally did start to play it stuttered. This is when I noticed that we didn't have 4G service and were relying on Verizon's 3G service, which wasn't fast enough to stream YouTube videos at the time.
As you can see in the above video, my son doesn't like buffering, especially when it's getting in the way of Goodnight Moon. I pay $60 per month for unlimited 4G LTE service. I don't expect perfection, but we shouldn't have to wonder if a YouTube video will stream or won't stream while we're using a flagship Android device on what's supposed to be America's fastest and most reliable network. Yes, my son survived the ordeal just fine since and I was able to show him the video since I carry an iPhone 4S that runs on AT&T's 3G network.
There are many, many other Verizon customers who are surely running into far more serious consequences when Verizon's 4G LTE network goes down. Businessmen miss out on deals, doctors aren't able to communicate with patients and pharmacies, and families miss out on video calls from relatives.
Verizon has already invested billions of dollars in its 4G LTE network, but it's the company needs to do much more. A minority of Verizon customers use 4G LTE, which is only available in the latest smarphones and tablets. We expect to see 4G LTE baked into the iPhone 5 and iPad 3. At this point, it's clear that Verizon isn't prepared to bring millions of iPhone and iPad users onto its 4G network. I can't imagine the flack Apple would get if the iPhone 5 or iPad 3 wasn't able to stream YouTube videos in highly populated cities.
As much as I like Verizon 4G LTE (when it's working) there are clearly tradeoffs. The service is generally available on Verizon's high-end devices, which means they're paying an up-front premium. Verizon 4G LTE customers are also paying everyday for the privilege of using the service in the form of decreased battery life.
Some Verizon customers think the company shouldn't charge for 4G when there are outages. What do you think? You can take our poll by clicking here.