How to Back Up Your iOS Device in iTunes
Backing up your computer and other devices is one of the most important maintenance tasks you can do. It can save you from certain disaster if you're phone ever dies or you accidentally drop it and break it. If you don't have any of the data on it backed up, you lose it all if the device crashes or fails.
And of course, your smartphone is one of the most important possessions you have, considering that you probably take it everywhere with you and store all of your photos, videos, music, movies, TV shoes and ebooks on it. Some of this you may already have backed up, thanks to syncing, but if not, you're putting yourself at risk. Here's how to back up your iPhone or iPad so that you don't lose any data if the device fails at any point.
Backing up your iPhone or iPad
The process for backing up both an iPhone and an iPad is the same, and it's very easy to do:
Open iTunes and plug in your iOS device to your computer
In the upper-right corner of the iTunes window, you'll see a button that says iPhone or iPad, depending on what you have.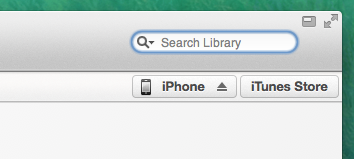 Click on that button to open another window that provides information about your device.
Below the main information is the Backup section. To do an all-out full backup of your iOS device, select This computer on the left-hand side.
Optionally, you can choose Encrypt backup to secure it from others accessing the personal data that gets backed up.

Next, click Back Up Now to begin the backup process. You may get a pop-up that talks about apps on your iOS device that aren't currently in your iTunes Library. Click Back Up Apps to sync these apps with your iTunes Library.
iTunes will begin transferring any apps over to your iTunes Library if there are any, and then it will back up your iOS device. When it's done, just click the blue Done button in the upper-right corner and you're good to go!

How to Restore from a Backup
If you ever get into a situation where you need to restore from a backup that you created, iTunes can easily do that as well. However, you need to disable Find My iPhone first. That can be found by opening up the Settings app and tapping on iCloud. Then, turn off Find My iPhone from the list.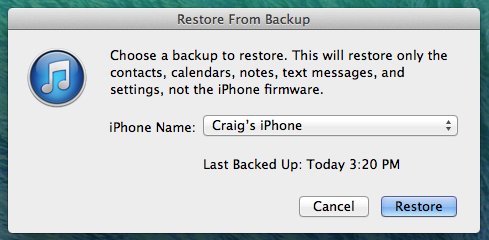 At the information screen for your iOS device, click on Restore Backup….
Then select the backup from the drop-down list. If you only have once device, there will only be one selection.
Click Restore to begin the restoring process.