Back to Early Roots: Evernote Acquires iOS Inking App Penultimate
Well, well, well. This is an interesting pairing. Evernote is announcing that it has acquired Cocoa Box Design, the company that created the very popular Digital Inking iOS App, Penultimate. The news of the acquisition comes very shortly after Evernote completed a $70 million funding round that puts its valuation at the $1 billion mark. But that's the business end of the deal. What has me intrigued here is some of the history and the potential for the future.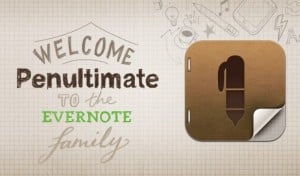 I've used Evernote for quite some time. Many Tablet PC fans will remember Evernote as a digital note-taking app that allowed you to store info, and yes, create notes in Digital Ink. Do you remember the scrolling metaphor for all your notes? Evernote was one of the few companies that paid serious attention to Digital Inking back then. Yes, it did more than Digital Inking, but hey, that was our reason for picking it up. Using a combo of Evernote and RitePen (a part of the Evernote family) was a very good solution for digital note taking for many. (Check out some more links on Evernote and RitePen here.) Oh, and by the way, I believe the founders of Evernote were a part of the handwriting recognition team for Apple's Newton.
And then along came the mobile explosion. Evernote, which had established itself as multi-platform success was poised to make a move and it did. Scan any top App list and you'll find very few that don't mention Evernote. The free and premium paid model seemed to work well, but for Digital Inkers there was a feeling of being left behind as Evernote continued a successful evolution. I can remember Rob Bushway publishing a few posts and a few tweets asking Phil Libin of Evernote when we would see Inking to its mobile Apps.
There were some advances here, but no direct integration. In fact, Penultimate could be tied into Evernote, allowing users to send pages or notebooks to Evernote. Speaking of Penultimate, it is still my favorite Digital Inking App for the iPad. I've been using it for quite some time. (BTW, Penultimate was just recently updated as well.)

So, what happens now that Evernote owns Penultimate? Evernote CEO Phil Libin is promising tighter integration between the Apps and also porting it to other platforms. The back end technology for character recognition already exists for searching Ink documents on Evernote's servers. He's also promising that Penultimate will remain the simple digital note taking App that it is.
I'm excited to see this marriage of two important Apps in my arsenal. I'm also excited about the potential for what this may mean for Digital Inking on iOS and other platforms. How about you?

As an Amazon Associate I earn from qualifying purchases.