Back to School Deal Gets Windows Buyers $150 In Savings
Many grade-level and college student won't return to class until August, but already Microsoft is moving to make laptops and 2-in-1s running its Windows 8 operating system a best buy for Back to School shoppers. As of now, its Microsoft Stores are giving new PC buyers $150 off their purchase — if they're picking up a Windows 8 laptop or 2-in-1 with a subscription to Office 365.
Microsoft began publicizing the new Back to School deal with text messages to users who'd subscribed to its deals messaging service earlier today.
The deal covers about a dozen machines, ranging from laptops that start at $999 to 2-in-1 computers and desktops that run about the same price. On the surface it appears that users can choose whatever machine they want in store — as long as the machine is valued at $599 or more.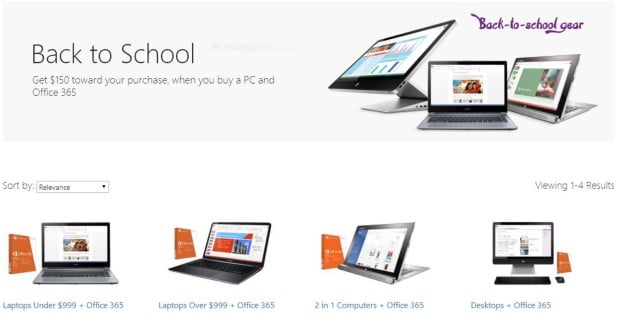 Microsoft isn't forcing users to purchase a more expensive version of Office 365 either, users can choose between Office 365 Home, Office 365 Personal and Office 365 University.
All told, it's not a bad Back To School deal to kick off the season with, but it's hardly what some would consider generous. By putting a minimum price on the deal Microsoft is forcing users to spend at least $600 in their stores, plus another $99 for Office 365 before they can get that $150 off. Really, Back to School shoppers are only saving $50 on their purchase and that's only for the first year.
Office 365 is a subscription service that allows users to create documents and more in Word, PowerPoint, Excel and OneNote. After that first year is up, users will need to pay Microsoft another $99 for another year or switch to one of the service's monthly plans that start at $6.99. Office 365 isn't like regular versions of Office. When users stop paying for it, it stops working. Back to School shoppers should note that Office 365 University costs users $79.99 for four years, making this a slightly better deal for those in college.
There are a lot of decent laptops, desktops and convertibles included in this deal. The Acer Aspire S7 and HP Envy TouchSmart 17 are particularly interesting, the 2-in-1s portion definitely doesn't include a single machine for users to get excited about.
Microsoft is actually excluding its own Surface Pro 3 and Surface Pro 2 tablets from this deal. That's a shame since the Surface Pro line is probably the most recognized Windows devices made by any company. In fact, the Surface Pro 3, is one of the only Windows 8 2-in-1s that successfully blends the laptop and tablet form factors into something that's portable and attractive looking.
Read: Surface Pro 3 Impressions: Has Microsoft Succeeded Where Apple Failed?
Back to School shoppers planning on taking advantage of this deal are better off calling their local store before they make a long drive there. Microsoft says that the deal is only available to Back to School shoppers at "select" retail stores. Thankfully, users who aren't near a Microsoft Store or whose Microsoft Store isn't taking advantage of the deal can create their own bundles online. Back to School shoppers who take advantage of the deal online should take taxes and expedited shipping fees into account before making their decision too. Thankfully, Microsoft doesn't charge users for standard shipping on anything, so buyers can save a bit of money there.
Back to School shoppers on the fence about the deal have plenty of time to consider other options. This Back to School deal from Microsoft will run until September 21st. As we get closer to the start of the school year we should see deals from other retailers like Best Buy and Wal-Mart that are even more attractive than this one. After all, tablets are the way that millions of users casually browse the internet and check email, but it's Windows laptops and 2-in-1s that allow users to get work done when they need to.