Back2School deal and giveaway from PDF Annotator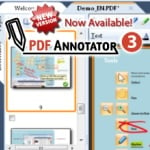 Whether you're going back to school or back to whatever your normal life is, for the month of September, you can get $7 off your purchase of PDF Annotator, the ink-enabled PDF editing and creation tool from Grahl Software, and sign up to win one of three Tom Bihn Ristretto notebook bags.
We covered the release of PDF Annotator 3 back in March, and I found it to be a very well-implemented upgrade to their ink-enabled software. (I really need to get around to doing an InkShow for it.) Marking up digital documents has long been a lauded strength of the Tablet PC. PDF Annotator 3 does a lot to enhance this whether you're jotting notes in class on a digital handout or signing important documents in the "real" world.
With the discount, PDF Annotator 3 is $22.90 for the student license and $62.95 for standard. And again, they have three Tom Bihn Ristretto notebook bags to give away. Pop over there to sign up now.

As an Amazon Associate I earn from qualifying purchases.