How to Completely Backup Your Mac Using Time Machine
Backing up your computer is one of the most crucial things you need to do when it comes to maintaining your machine. We're guessing it's where most of your photos, videos, music and pretty much all of your other files are located, and if something were to happen to your computer, like a failed hard drive, you would lose absolutely everything, unless you had all those files backed up.
You might think that backing up all your files is tedious, but modern software technology has made it quite easy and convenient.
If you're using a Mac, there's a utility called Time Machine that makes backing up your computer dead simple. However, setting it up can be a little confusing for newcomers to OS X, so we'll show you how to set it up and even how to restore from a Time Machine backup.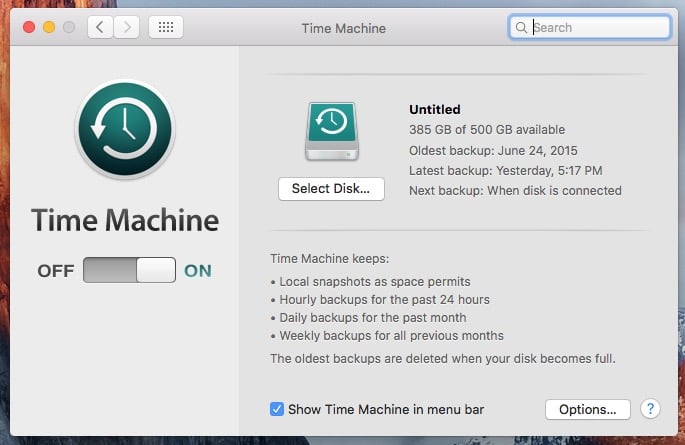 Enabling Time Machine
Before you can start backing up your Mac using Time Machine, you first have to enable it and set up the external hard drive that you want to back up to. Open up System Preferences and click on Time Machine. You should then see a large on/off toggle. Simply just flip this to ON to start setting it up.
Next, you'll need an external hard drive to back up to. Plug it into your Mac and then click on Select Disk… in the Time Machine window. You should see your external hard drive in the list. Select it and then click Use Disk. From there, you're all ready to go and you can begin backing up your computer. It should give you a countdown until it officially starts backing up.
However, there are some advanced options that you can take advantage of. From the Time Machine preference pane, you can click on Options… in the lower-right corner. Here you can exclude certain folders from being backed up with Time Machine. There are also settings that allow you to back up even while your MacBook is running on battery power, or you can make it so that Time Machine will notify you when old backups are about to be deleted in order to make room for newer backups.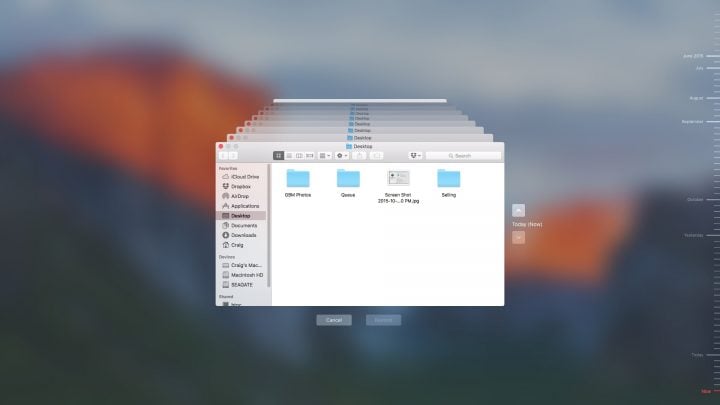 Restoring from a Time Machine Backup
In order to restore a backup, you have to open up the Time Machine app. You'll find this in the Applications folder and you'll just double-click on Time Machine to open it up. You'll then be greeted with the main Time Machine user interface.
From here, you can explore all of your backups that you have, and you can visit any backup that's on your external hard drive. This method only allows you to restore files or folders that you may have deleted by accident. To restore your entire system from a Time Machine backup, check out the next section.
So, to restore a certain file or folder, simply navigate to the date and time that you last had the file or folder in possession. You can navigate through different dates and times using the right-hand vertical bar. Here, you might see both white and purple marks. Time Machine backups saved to your external hard drive will appear in purple, while local snapshots are in white. Local snapshots are simply compliments of actual backups, and they're make up for times when the external hard drive isn't connected, so for the most part, you'll want to stick with purple-colored listings.
When you find the file that you want to restore, click on it and then go down to the lower-right corner and click Restore.
Restoring Your Entire System Using Time Machine
To restore your entire computer (rather than just some files and folders), you'll have to boot into the computers recovery partition by pressing and holding down Command-R during bootup. This launches Recovery Mode, which is a portion of your drive that your Mac treats as a separate volume.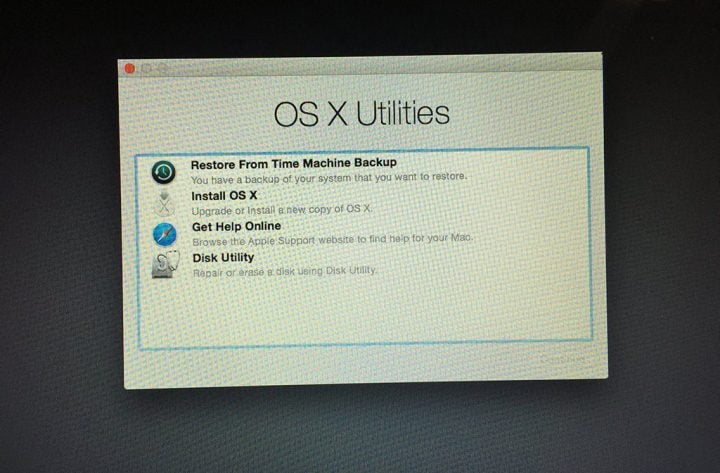 The Mac OS X Utilities window will appear, and from here you'll select Restore From Time Machine Backup. Click Continue until you hit the Select a Backup Source window. Next, select your Time Machine backup drive and click Continue. Choose your Mac's main hard drive in the Select a Destination window and off you go.