Bamboo Stylus Feel for Microsoft Surface and Other Active Digitizer Displays
The new Bamboo Stylus Feel gives users of the Microsoft Surface Pro, and other devices with an active digitizer like the Samsung Galaxy Note 10.1, a high-quality stylus that looks like something one might give a college graduate or retiring executive.
The pen arrives in January with a classy look and a pressure sensitive tip.
With three color and texture options, black matte, carbon fiber or white matte, the Bamboo Stylus Feel lets users of supported tablets ink with accuracy.
Those who've used this kind of stylus know that it makes using a capacitive stylus, like those that work on most touch screens like the iPad, feel like writing with a big crayon. Styli like the Bamboo Stylus Feel are pressure sensitive and far more accurate for intricate detailed writing or drawing.
Wacom, makers of the Bamboo Stylus Feel, offers a list of compatible devices. It's pretty short. Here's the tablets that work with the stylus:
Fujitsu Lifebook T902 Tablet PC
Fujitsu Lifebook T732 Tablet PC
Samsung Galaxy Note 1 Smartphone
Samsung Galaxy Note 10.1 Slate
ErenEben T6 Slate
Dell Latitude 10 Tablet PC
Notice the Galaxy Note 1 smartphone listed, but not the Galaxy Note 2. We're assuming this oversight should get corrected since the two phones use the same S-Pen technology.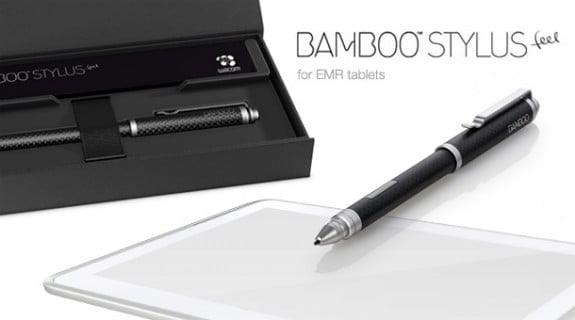 So why should someone invest in a pen like this instead of just using the stylus that came with their tablet?
A stylus like the Bamboo Feel is a higher quality replacement that likely offers a better value than buying another stock stylus. A good third-party stylus like this is often more comfortable to ink with for long writing sessions and might offer a more precise inking experience, something we'll need to test when the Bamboo Feel is released on January 7, 2013.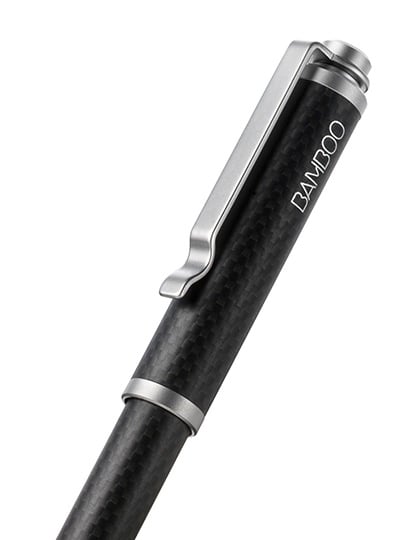 The Carbon options offers a carbon fiber texture at a premium price of $79.95. The Black and White both offer a matte finish and retail for $39.95.