Barnes and Noble Announces Touch-enabled Nook with E-Ink & 2 Month Battery
Barnes and Noble is going to be offering a new Nook with a touch screen to compete with the Amazon Kindle and the new touch-enabled Kobo eReader. The new Simple Touch Reader from Barnes and Noble will retail for $139 and boasts 2 months of battery life and a  touch-enabled black-and-white E-Ink screen that is readable outdoors and offers faster page turns. The new Nook Simple Touch Reader is available for preorder and should ship in time for Father's Day.
The new e-ink reader will feature a new interface with an all new home screen that has your reading list and offers possible books you might like. It also is more page number friendly, something that has been a complaint of users of other eReaders. There is a page zoom feature that jumps to any page. It also tells you how many pages are left in the book. The new design also cuts down on buttons in order to deliver a simpler reading experience.
The Simple Touch Reader has a 6″ screen and WiFi connectivity, which is the same as the Kindle, but offers a smaller size than Amazon's eReader. The new Nook weighs in at 8.5 ounces and has a soft rubber back.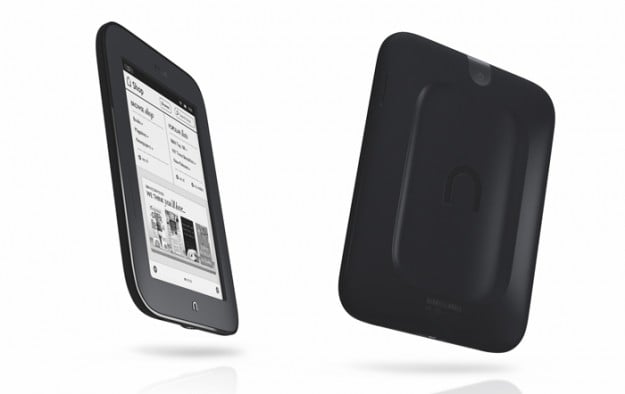 The new Simple Touch Reader is not a replacement for the very tablet-like Nook Color they offer for $250. Instead it replaces their lower priced Nook eReader which had two screens – an E-Ink screen and a color touch screen. The previous Nook WiFi and Nook 3G + WiFi devices have been cut to $119 and $169 in order to better compete with the low priced ad supported Amazon Kindle.
Like the  Nook and Nook Color, the new Simple Touch Reader will launch  from Barnes and Noble to protect your device and ad a personal touch. Here are a few of those cases.
These all sound like good advances. The Amazon Kindle has a big lead in this sector. The Nook Color is special because it is a low-cost limited Android tablet. Rooting the device gives it even more functionality and has likely been the source of some of its sales success. Can this newly designed Nook compete with the Kindle? It looks like it is sure to make it the best e-ink alternative to the Kindle ahead of Sony, Kobo and the others. With an Amazon Android tablet likely coming, these e-ink readers seem less appealing except to those who care about only one thing – reading books and periodicals.

As an Amazon Associate I earn from qualifying purchases.