Barnes and Noble To Stop Making Nook Tablets
Barnes & Noble, makers of the Nook family of Android tablets, has announced that it will discontinue production of its own devices this year.
The announcement, which came as part of the company's quarterly earnings report seems to indicate that it'll be exiting the tablet market sooner than planned because of the losses the division is beginning to rack up selling hardware. While its book and content sales increased 16% over the year, that simply wasn't enough to fight off the loss associated with the decline in tablet device sales.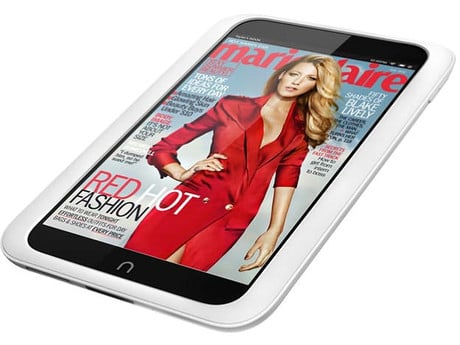 Instead of creating its own tablets, Barnes & Noble says that it will partner with hardware vendors to create next generation tablets. It will continue to make dedicated eReaders like the Nook Simple Touch. Users who've already purchased the Nook HD, Nook Tablet, and Nook HD+ can still expect software upgrades overtime. The company will continue to sell its tablets for now, presumably to get rid of the stock it has remaining.
The writing had been on the wall for the Nook tablet devices for some time. Earlier this year, reports originating from TechCrunch indicated that Microsoft was mulling over a bid to purchase the remaining portion of the Nook Media business that it didn't already own for as much as $1 billion.
Read: Microsoft May Buy Barnes & Noble E-Book Business
While that buyout hasn't yet materialized, it did detail a plan in which Barnes & Noble would exit the tablet selling business altogether to focus on selling simple eReaders and partnering with tablet manufacturers who were already in the space.
It had also been speculated that the company's move to allow Nook users to install applications from the Google Play Store might have been a signal that it no longer wished to compete in the tablet space with the Nook line. Until that point, users could only install applications that were in the Nook apps catalog.
Without the burden of an expensive, loss-heavy tablet business, Nook Media could be poised to thrive. The company has spent years reaching out to customers who have devices that aren't made by the company. Currently the Nook reading application is available to iPhone, iPad, Android and Windows users.