Barnes & Noble Offers Nook Tablet Kids Summer Reading Program
Barnes & Noble will offer a summer reading program for kids who buy a Nook Tablet eReader. The Nook Tablet Kids Summer Reading Program gives kids free books with the purchase of a Nook Tablet in a Barnes & Noble store. Three programs focus on three age groups – teens, tweens and younger beginning readers.
When a parent buys their child a Nook Tablet, Barnes & Noble will offer one of three reading collections for free as an add-on. The bestselling books will help the kids in the three age groups get into reading during the long summer holiday.
As a parent of two teens, I know it's a struggle to entice kids to read. Last Christmas I bought my kids eReaders and their reading took off afterwards. My wife entices kids in her grade school classroom to read more by offering them the use of her eReader as a reward.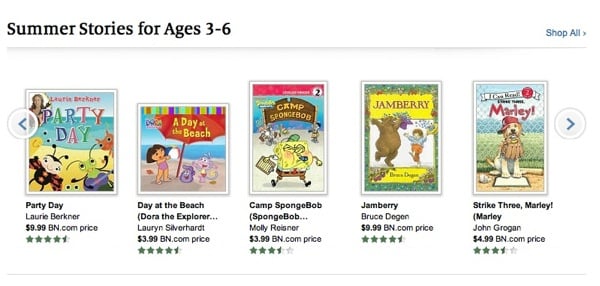 The Nook Tablet eReader comes in two versions. The 8GB model costs $199 while the 16GB model costs $249. In each case the Nook lets users read books, periodicals, graphic novels and more. It also comes with a web browser and an app store. The user can buy games, Netflix and other great apps.
The operating system on the Nook Tablet takes a highly customized version of Android and offers a lot of functionality at a decent price. Read our review of the most recent Nook Tablet to learn more. The Nook Tablet offers one of the best eReading experiences for children's books, so this seems like a perfect way to promote reading and the Nook.
The three collections will become available during three different periods this summer as follows:
June 18 through July 15: Summer Reading Collection for Ages 7-12
July 16 through August 5: Summer Reading Collection for Teens
August 6 through September 2: Picture books for young readers
It seems strange to break up the different age groups by date like this. I'm not sure why Barnes & Noble didn't just offer the deal all summer for all three age groups.
To qualify, a customer must buy a Nook Tablet at a physical Barnes & Noble store between June 18 and July 15. The receipt will include the codes to download the books, which then become a permanent part of the customers locker. The first collection of books includes the following titles:
Artemis Fowl by Eoin Colfer
The Amulet of Samarkand (Bartimaeus series No. 1) by Jonathan Stroud
Disney after Dark (Kingdom Keepers series No. 1) by Ridley Pearson
Judy Moody & Stink: Mad, Mad, Mad, Mad Treasure Hunt by Megan McDonald
The Lemonade War by Jacqueline Davies
Just Grace by Charise Mericle Harper