Barry Doyle: Up Close And Pesonal With The Panasonic ToughBook Tablet PC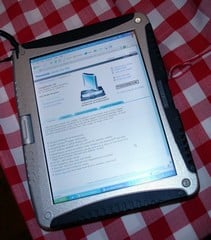 Barry Doyle of TabletPCReviewSpot continues to report some interesting info from the C3 Event in NYC. He's published a hands-on look at the Pansonic Toughbook-18 Tablet PC, replete with pics. Take a look here at this ruggedized Tablet PC. What's with all the red-checkered tablet cloths at this show?

As an Amazon Associate I earn from qualifying purchases.