Batman Arkham Knight DLC Release Plans Revealed
Video game publisher Warner Brothers and developer Rocksteady Studios are sharing some exciting new Batman Arkham Knight DLC release details this week. First, the 1989 Batmobile that the studio and publisher announced recently is making it's way to Xbox One and PS4 users today. Second, there's a new Batmobile coming and it's inspired by the Batman Begins, The Dark Knight an The Dark Knight Rises movies. Plus, all of this is happening at the same time as a huge Batman Arkham Knight deal is running the Xbox One.
Starting today, Xbox One and PS4 users who own Batman Arkham Knight can download the Batmobile Movie Pack and the Bat-Family Skin Pack. The Batman Movie Pack contains the vehicle Michael Keaton used in his Batman movies. The update also comes complete with tracks to use the car on. The 1989 Movie Batmobile Pack costs $1.99. The Bat-Family Skin Pack that includes three costumes for Batman and three other skins for his sidekick are $1.99. Anyone who purchases the Batman Arkham Knight Season Pass gets this content at no additional charge. The Season Pass itself costs $39.99 directly from the Xbox Store and PlayStation Network.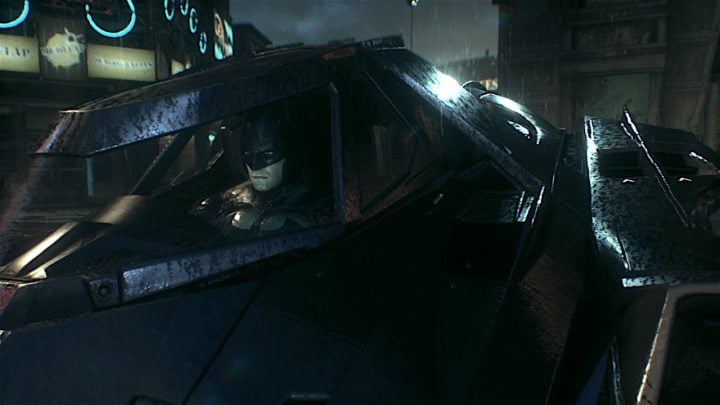 Microsoft's Xbox Store has a terrific deal on the digital version of the game. Anyone with an Xbox Live Gold account can purchase Batman Arkham Knight for $44.99.
We knew that these upgrades we coming. What we didn't know is that the Batman Arkham Knight DLC schedule is pretty stuffed with content during the month of September too.
Rocksteady plans to release four sets of content sometime in December. We don't yet know when all of them will go live on Xbox Live and PlayStation Network.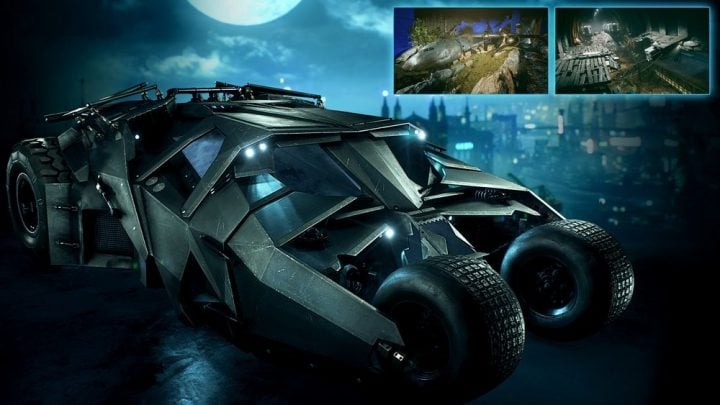 The Crime Fighter Challenge Pack #1 will add six different challengers for Batman, Nightwing, Robin and Catwoman. Rocksteady is hoping Batman Arkham Knight DLC buyers will use these maps to improve their combat and predator skills. Notably missing is a new AR challenge for the Batmobile. The release date for this content in September 1st.
GCPD Lockdown is another piece of Batman Arkham Knight DLC coming in September. In this piece of story content Nightwing goes after Penguin when he escapes from Gotham Police headquarters. Warner Brothers and Rocksteady say that this content takes place after the events of the main story. As such, it's a good idea for users to avoid it until they've finished that.
In the movie The Dark Knight, Batman had a huge tank-like vehicle originally designed for building bridges. That car is coming to Batman Arkham Knight with the 2008 Tumbler Batmobile Pack. Like the Batmobile Movie Pack, it'll come complete with two themed tracks to match.
Rocksteady and Warner Brothers plan to release the original Arkham Batman Skin for Batman Arkham Knight DLC buyers too. It contains the suit from the first game in the series, Batman Arkham Asylum. So far story related content has cost users $1.99 separately while new skins cost $.99 on their own. It's hard to imagine that this won't be the case with this new Batman Arkham Knight DLC.
Read: How to Use & More Batman Arkham Knight Batmobile Tips
Batman Arkham Knight is the final game in the Batman Arkham series of games to be produced by Rocksteady Studios. The series kicked off with Batman Arkham Asylum on the Xbox 360, PS3 and Windows PCs. Batman Arkham Knight players take on the role of The Caped Crusader shortly before Gotham City comes under attack from Scarecrow and his fear toxin. Aiding Batman are Catwoman, Robin and Nightwing.
Rocksteady is still working hard to repair the PC version of the game that Warner Brothers contracted out to another company to create. Because of this, there's no estimated date for when Windows PC gamers will get all of this Batman Arkham Knight DLC, even if they purchased the Batman Arkham Knight Season Pass.
All told, investing in that pass has turned out to be a very good deal for players. Microsoft and Sony both slashed $10 off the purchase price of the game when purchased digitally with the season pass. Warner Brothers and Rocksteady promised users six months of downloadable content updates.

This article may contain affiliate links. Click here for more details.