Batman Arkham Knight Refunds Arrive
Video game publisher Warner Brothers is signaling that its ready to take its teams off fixing the issues that plague Batman Arkham Knight for Windows PCs. In fact, the company is finally offering Batman Arkham Knight refunds to anyone and everyone that purchased the game through gaming service Steam.
Warner Brothers announced the Batman Arkham Knight refunds over the weekend in a post to Steam community members. Batman Arkham Knight was one of this summer's most exciting games. Built specifically for next generation consoles and Windows PCs, it featured a new villain created specifically for the series, more nuanced combat and Batmobile that was always ready to assist players. Warner Brothers is still releasing new content for the game until the end of the year – provided users have a Season Pass or want to purchase the content piecemeal. Warner Brothers has had studio Rocksteady working on fixes for framerate and performance since the game launched in June. To be clear, Warner Brothers had another studio working on the PC version of the game until launch.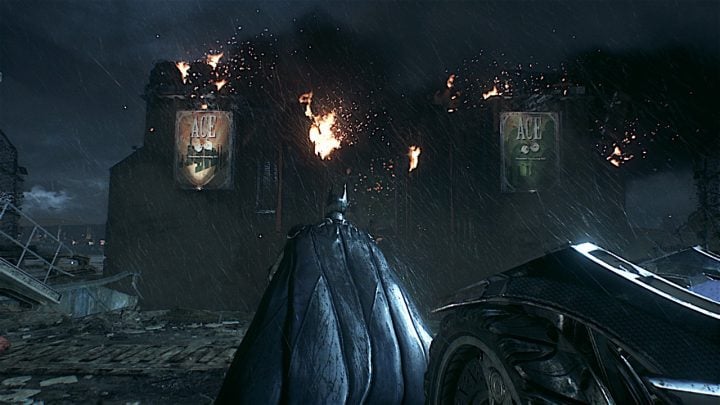 Read: Batman Arkham Knight Problems – Release Date Details
"We are very sorry that many of our customers continue to be unhappy with the PC version of Batman: Arkham Knight. We worked hard to get the game to live up to the standard you deserve, but understand that many of you are still experiencing issues," a post from the studio says on Steam.
As a whole, the message about Batman Arkham Knight refunds is pretty brief. The studio says that it will refund any user in full who purchased the base game and the Batman Arkham Knight Season Pass through Steam. The studio is promising to "to continue to address the issues that they [Rocksteady] can fix." If an issue can't be fixed, the studio says it plans to communicate that too.
The massive patch that Warner Brothers released recently to address Batman Arkham Knight problems is a whopping 2.4GBs on most machines. Certainly, a large number of members in the r/BatmanArkham community on Reddit are still having issues, even with the latest update for the game.
It's rare that a video game publisher ever offers a refund for a bad experience. In the past for years there have been games with issues so severe that their publishers felt it necessary to provide shoppers with free content or extras to compensate. Halo: The Master Chief Collection launched with so many multiplayer issues that Microsoft gifted users Halo 3: ODST as a free download. The company even rewarded users with a free month of Xbox Live. Assassin's Creed Syndicate was so buggy on all platforms that Ubisoft was forced to give away downloadable content and spend months patching the game.
Since almost all PC gamers purchase Batman Arkham Knight through Steam, Warner Brothers is able to manage refunds in a somewhat orderly fashion. Unfortunately, there are some caveats. First, it seems users who purchased disc copies of Batman Arkham Knight from retail stores are out of luck. Second, Warner Brothers is not offering users who purchased the Season Pass separately from the game a refund in any way, it seems.
Early on, some Steam users reported not being able to file for a refund. Since the post about the refund arrived, Steam owner Valve has added an update to the original post. This update asks that users who "were having trouble submitting a refund for the game purchased on Steam" to try apply for the refund again.
With updates and fixes for the PC version of the game flowing again, it seems pretty certain that Warner Brothers will finally begin honoring its commitments when it comes to downloadable content. The Season Pass for Batman Arkham Knight included months of content that users haven't been able to download to PCs yet.

This article may contain affiliate links. Click here for more details.