Batman: Arkham Knight Release Date Details Arrive
Warner Brothers Interactive and developer Rocksteady Studios have finally revealed the Batman Arkham Knight release date gamers have clamored for. According to an announcement today, users can expect three versions of Batman: Akrham Knight to launch on June 2nd in the United States.
Gaming website Polygon was the first to reveal that Warner Brothers had a Batman: Arkham Knight release date earlier this morning. On June 2nd 2015 Xbox One and PS4 owners will be able to pick up standard physical copies of the game from retailers like GameStop, Target and Wal-Mart for $60. Certainly, any release date at all is good news for longtime Batman Akrham series fans who have waited patiently. Announced last year, Batman Arkham Knight was going to be a tent-pole of the fall gaming season. In fact, it wasn't until this summer that Warner Brothers revealed it was delaying the game until next year.
This being a potential blockbuster release, Warner Brothers isn't leaving any money on the table. Today, the company also revealed two new Batman: Arkham Knight release date bundles coming alongside the standard physical copy of the game.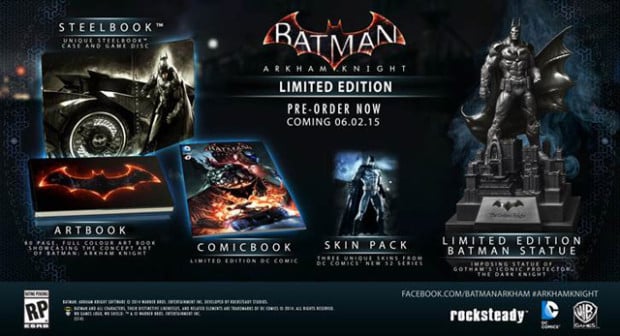 Batman Arkham Knight Limited Edition will come in a steel case for $99. Sealed in that case will be an art book, a special comic book for the game made by DC Comics, 42 skins that buyers can use on their in-game characters and a Batman statue that users can put in their display case or next to their console. A physical copy of the game is also included.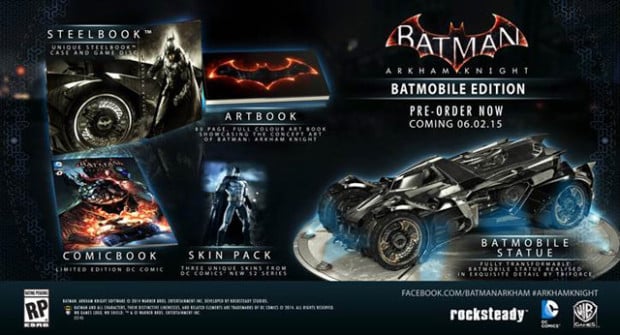 Batman: Arkham Knight Batmobile Edition buyers can expect everything that comes with the Limited Edition version of the game. That is, they'll get everything except that Batman statue. In place of that Batman statue is a Batmobile that actually transforms. That matches what we already know about the Batmobile included in the actual game. Players will switch between cruising around quickly through Gotham City in one mode and battling enemies in the other. This version of the game will cost whopping $199 for Xbox One and PS4.
Batman: Arkham Knight release day won't bring any special edition Xbox 360 and PS3 bundles because the game is strictly next-generation only. When it was still scheduled for release later this year, many saw Batman: Arkham Knight as one of the few games destined to lure longtime gamers away from their older consoles and onto the newer platforms. In theory, a Batman: Arkham Knight release day this fall would have boosted new console sales heading into the holiday season. Instead, Assassin's Creed Unity will be one of the few games made by firms that aren't associated directly with Microsoft or Sony releasing for new consoles only.
Unfortunately, Warner Brothers and Rocksteady Studios didn't reveal a digital bungle. It makes sense that they wouldn't announce one this far away from release, but it's still worth noting. The two companies didn't reveal any information on a season pass for downloadable content either. Coupled with the lack of downloadable content available in each special edition bundle it possible that Warner Brothers doesn't plan to let users download extra content for Batman Arkham Knight for a low price. Instead, the firms could just sell add-ons individually.
As its name suggests, in Batman: Arkham Knight gamers take on the role of Batman, just like they've done in the three previous games in the series. Batman: Arkham Knight's claim to fame is it's wide-open sandbox version of Gotham City. In past editions of the game users were stuck traversing the world with a grappling hook and gliding. In this game, players will take control of the Batmobile and use it in their quest to stop the Arkham Knight from destroying Gotham.

This article may contain affiliate links. Click here for more details.