Batman Arkham Knight Release Date Disappointments
With just days left until its debut on the Xbox One, PS4 and Windows PCs, we're not learning a lot of new things about Batman Arkham Knight itself. That doesn't exactly mean that there aren't Batman Arkham Knight release problems that have buyers frustrated. It seems without warning Warner Brothers, Batman Arkham Knight's publisher, is cancelling the orders of those who pre-ordered Batman: Arkham Knight Batmobile Edition and more.
Batman: Arkham enthusiast website Arkhamverse was among the first to report these new Batman Arkham Knight release issues yesterday.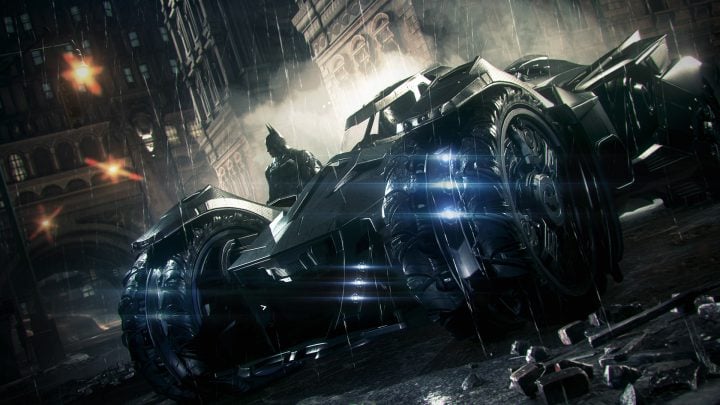 Read: Batman Arkham Knight Impressions: Be Your Own Bat
According to outlet both GAME and GameStop began informing customers that their pre-orders of Batman Arkham Knight Batmobile Edition were being cancelled. An email sent out to the outlet by GAME makes it clear that the Batman Arkham Knight problems affecting users owe their existence to Warner Brothers itself, not a stock issue on their part. "Regrettably, due to unforeseen circumstances that greatly compromised the quality of the Batmobile, included within the Batman Arkham Knight Batmobile Edition, Warner Bros has decided to not release this product."
Sometimes retailers take too many orders of a special edition video game with extras and can't fill them. That definitely doesn't seem to be the issue here. GAME says that Tri-Force, the company making both the Batman statue and the Batmobile for the Batman Arkham Knight release, ran into manufacturing issues. Batman Arkham Knight Batmobile Edition was just five days away from release.
As an apology GAME is discounting its own Batman Arkham Knight Red Hood Edition by 20 euros for all players. Warner Brothers says its also giving away the free Batman New 52 skins that players would have gotten on Batman Arkham Knight release day. For now those who wanted something to remember the series by will have to be happy with a standard edition of the game or one of the figures available online. It's also still possible to pre-order the Limited Edition ahead of the Batman Arkham Knight release. Anyone can get a refund directly from the retailer they pre-ordered from.
Amazon is completely sold out of the Batman Arkham Knight Limited Edition for PS4 and Xbox One. So too is GameStop. General retailer Target still has Batman Arkham Knight Limited Edition pre-orders left. Toys R Us still has Batman Arkham Knight Limited Edition pre-orders left for purchase if you have an Xbox One. Unfortunately, they too are sold out of the Limited Edition pre-order for Sony's PS4 game console. Batman Arkham Knight Limited Edition includes a fair amount of extras itself. Inside is a dedicated art book that contains tons of concept art from the game. There's a comic book, the now free Batman 52 skin pack and the Limited Edition Batman statue inspired by the hero's look in Batman Arkham Knight.
Read: How to Get the Pre-Order Batman Arkham Knight Extras
Batman Arkham Knight Limited Edition should still arrive on stores helves on June 23rd along with physical copies of the game for Windows PCs, Xbox One consoles and PS4 consoles. Of course, the entry-level digital and Premium digital versions of the game you can pre-order directly from the Xbox Store, Steam and PlayStation Store are still scheduled to arrive on time on June 23rd. Basic versions of Batman Arkham Knight cost $59.99. Batman Arkham Knight Premium Edition costs $89.99 for a limited time and includes free access to roughly six months of challenge maps, story add-ons, character skins and a new prototype Batmobile.
Batman Arkham Knight is expected to be this summer's must-have game. Originally it was scheduled for release in 2014, but delayed for reasons unknown. Beyond playing as Batman, the game includes the Batmobile and a new combat system for taking own villains with multiple heroes at the same time

As an Amazon Associate I earn from qualifying purchases.