3 Reasons Not to Pre-Order Battlefield 1 & 4 Reasons You Should
Battlefield 1 is shaping up to be one of the year's most exciting releases. And while some of you will want to pre-order it ahead of its October release date, others will be better off waiting a few weeks or a few months before committing.
In early mid-May, EA DICE confirmed Battlefield 1 with an exciting trailer that takes gamers back to the dawn of all-out war, World War I.
Already, we know a lot about Battlefield 1. It will be released on October 18th for some, October 21st for others. It will feature a public beta sometime before said release dates. And it will feature authentic weaponry, vehicles, and maps tailored to the era.
It's shaping up to be quite the spectacle and people, particularly long time fans of the Battlefield series, are excited for what's to come.
As we push away from the reveal, deeper into the summer, you might find yourself struggling with the decision to pre-order Battlefield 1 or not.
While there are reasons to consider pre-ordering Battlefield 1 for Xbox One, PS4 or PC right now, there are also some reasons to consider waiting.
If you're struggling with this decision, this Battlefield 1 pre-order guide will walk you through these reasons and help those of you straddling the fence lean to one side or the other.
Pre-Order If You Want the Collector's Edition
If you're a die-hard Battlefield fan, you might find yourself taking a look at the Battlefield 1 Collector's Edition.
The $220 ($175.99 for Prime members) bundle from Amazon includes everything you get with the Early Enlister Deluxe version of the game plus some other items including a deck of cards, exclusive DLC, a figurine, and more.
For the moment, Amazon's Battlefield 1 Collector's Edition stock is healthy. But that could certainly change.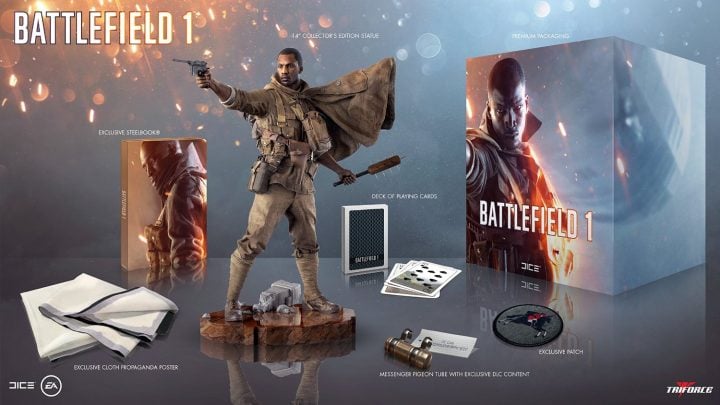 Nothing is confirmed but don't be surprised if stock dries up before the Battlefield 1 release date in October. How soon will this happen?
It's impossible to say so it would be wise to put in a pre-order right now to lock a bundle down just in case. Amazon won't charge you when you order and you can cancel at any time.
If stock does sell out, you'll have to deal with re-sale sites like eBay and you almost certainly won't be able to get the bundle for $175.99 for release day.
Pre-Order If You Want Early Access
Pre-order Battlefield 1 if you want to play the game before its October 21st street date in the United States and countries around the world.
The only way to play Battlefield 1 earlier than October 21st is via EA/Origin Access or the Early Enlister Deluxe Edition.
If you pre-order the Deluxe Edition, your Battlefield 1 release date is October 18th. As we've noted, this is the edition for most people.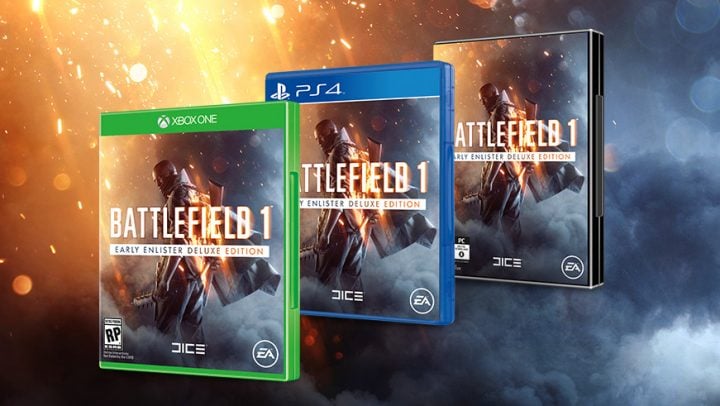 If you pre-order a digital copy through Microsoft, Deluxe Edition or Standard, you'll get a free month trial to EA Access which can then be used to play Battlefield 1 early. EA Access typically grants subscribers access to gamers five days before a release date.
Microsoft's promotion won't last forever so if you want to play the final version of the game as soon as humanly possible, you'll want to pre-order through Microsoft.
Pre-Order If You Want to Play ASAP
If you want to play the game the second it's released you'll need to pre-order a very specific version of Battlefield 1.
If you pre-order the digital version of Battlefield 1 you'll be able to play the game when it unlocks on Midnight on October 18th and October 21st.
If you pre-order a physical copy, you'll likely have to deal with midnight launch events and a delivery that comes hours after the battles begin.
If you want to be at the very tip of the sword, you'll need to put in an early order and a digital one at that.
Pre-Order If You Want These Items Early
If you want early access to a brand new map and a bunch of free items, you'll want to pre-order a copy of Battlefield 1.
If you pre-order Battlefield 1, any version, you'll get access to a free unannounced map seven days before everyone else. The map is scheduled to arrive in 2016 sometime after the Battlefield 1 release date.
You'll also get the Hellfighter Pack and it includes a Hellfighter M1911 pistol, a Harlem Hellfighters insignia, a Hellfighter Trench Shotgun, and a Hellfighter Bolo Knife.
We assume you'll be able to earn these in the game but some of you will benefit from having them at your disposal right off the bat.
Don't Pre-Order If You're New to Battlefield
If you're new to the Battlefield series or you simply want to see more, you might want to wait on a Battlefield 1 pre-order.
The trailer is fantastic but we still haven't seen the game in action and won't until EA Play on June 12th. That's the first milestone to keep on your calendar. It'll give you a feel for the game and you might be able to decide then and there if it's a fit for you and your library of games.
If you can't decide, you'll also have access to a public Battlefield 1 beta ahead of the release date. This will allow you to test the game to see if you like what the developer's done. The beta will be free and open to anyone.
I joined the Battlefield Hardline beta and I'm glad I did. I've played most Battlefield games but Hardline didn't suit my tastes so I skipped it in favor of reconnecting with an old friend, Battlefield 4.
People love the trailer and people will undoubtedly love Battlefield 1. But that doesn't mean you will and you'll want to take advantage of these events if you're on the fence or new to the series.
Don't Pre-Order If You Can't Handle Problems
EA DICE and its engineers will do all that they can to put out a perfect product. The Battlefield 1 beta will help. However, the game will almost certainly come with a bunch of problems that'll need to be worked out with updates and hot fixes.
Battlefield 1 probably won't be the disaster that Battlefield 4 was when it first came out but it won't be perfect. It's going to be a huge game with tons of moving parts and ambitious games like this are always riddled with issues.
If you're unwilling to deal with the initial batch of Battlefield 1 problems and bugs, you might want to wait until after the Battlefield 1 launch to put in an order.
EA DICE will undoubtedly issue updates that fix major problems, tweak weapons and classes, and add polish to the game.
Don't Pre-Order If You Want More (And Possibly Better) Deals
If you can't or don't want to spend around $60 (or more) for your copy of Battlefield 1, you probably don't want to pre-order the game ahead of its release date.
There are a few Battlefield 1 deals floating around right now but some of them require memberships. For example, Best Buy's Gamers Club Unlocked Battlefield 1 deal drops the game to $48 but it requires a membership fee.
Amazon's also offering Battlefield 1 deals but you need to be a Prime member to take advantage. (You can signup for a free one month Prime trial but that might not be ideal for some of you.)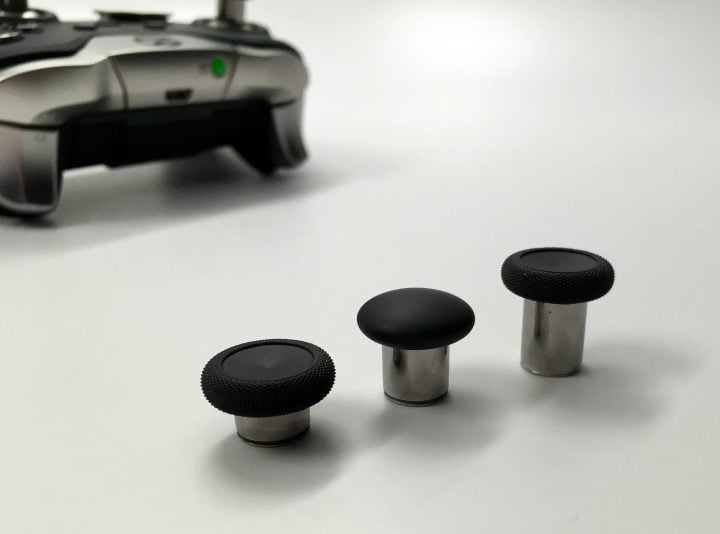 If you're looking to pay much less, and you don't need the game in your hands in late October, you might think about waiting until November and the start of holiday shopping.
We'll almost certainly see retailers offer some discounts for the holidays and we should see Battlefield 1 included in Black Friday/Cyber Monday deals starting in late November.
Battlefield 1 Release: 10 Key Details
Battlefield 1 Problems & Update
Now that the game is out we're starting to hear about some of the early Battlefield 1 problems.
Battlefield 1 players are noticing issues with Battlepacks, issues accessing the Battlefield 1 trial, crashes, invisible players, installation issues, various issues with the weapons, texturing issues, lag, and a whole lot more. We expect complaints to continue as we push away from the game's release date.
In response to these complaints, EA DICE has issued the first Battlefield 1 update for Xbox One, PS4 and Windows PC. The latest Battlefield 1 update tackles some of the glaring issues with the game's UI, graphics, and more.
For more on the October Battlefield 1 update, take a look at our roundup.

This article may contain affiliate links. Click here for more details.